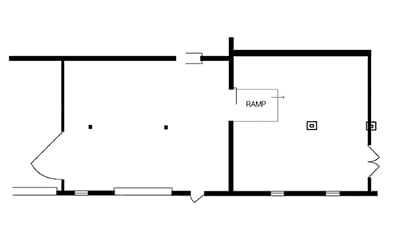 ARTISTS
David Court, Erin Diebboll, David Horvitz, Anouk Kruithof, Amanda Turner Pohan, Steven Zultanski
Curated by Alison Burstein
Knockdown Center is pleased to present You can tell I'm alive and well because I weep continuously., an exhibition that features David Court, Erin Diebboll, David Horvitz, Anouk Kruithof, Amanda Turner Pohan, and Steven Zultanski.
---
You can tell I'm alive and well because I weep continuously.
Given that the average person, in a lifetime, sheds about 4,167.921 cubic inches of tears, and that I'm somewhere around 1/3 of the way through my life, then we can assume that, so far, I've shed about 1,373.034 cubic inches of tears.
Since water makes up 60% of a human body, and the volume of the average body is 5,064.97 cubic inches, then we know that the volume of water in an average human is 3,038.982 cubic inches.
And so, so far, in my lifetime, I've shed about 45.181% of my body's water in tears.
Since tears are mostly water.
Let me see here.
— Steven Zultanski, Agony (2012)
Taking up the processes of formal alchemy that lie at the core of the book-length poem Agony by Steven Zultanski, You can tell I'm alive and well because I weep continuously. is an exhibition that traffics in transformative acts.
The show brings together the work of five artists whose techniques resonate with Agony's provocative alchemical idiom: these artworks quantify bodily and affective features, apply logical and scientific reasoning to absurd ends, and manipulate the linkages between language and things. By placing the objects in calculated proximity to one another—and in relation to the connective tissue of Zultanski's text—the exhibition format effects its own dynamic shift, conjuring poem-as-exhibition.
You can tell I'm alive and well because I weep continuously. invites viewers to inspect examples of morphed materiality within and between the elements on view, and thereby creates opportunities to consider the potential (and celebrate the futility) of giving stable form to ephemeral traits or experiences.
Exhibition Events
January 13th, 6 – 9pm: Opening reception.
February 10th, 7–9pm: Poetry Reading with Alejandro Crawford, Mónica de la Torre, Shiv Kotecha, and Stacy Szymaszek, featuring a sound installation by Fernando Diaz.
Artist Bios
David Court is an artist and writer based in New York. Recent and upcoming exhibitions include 8eleven (Toronto), Museo de la Ciudad Querétaro (Mexico), Proxy (Providence), and Skol Center des Arts Actuels (Montreal). Court has been Artist-in-Residence at the Banff Center, in the Workspace program of the Lower Manhattan Cultural Council, the Elizabeth Foundation for the Art's SHIFT program, and Brown University's Interrupt:3 conference.Court works with selection, formatting and narration as modes of expression in relation to exhibition as a genre of cultural production.
Erin Diebboll was raised in Massachusetts and has been based in Brooklyn and the San Francisco Bay Area. Last summer she participated in Container Residency 01, traveling on board a container ship across the Pacific Ocean. She has been granted residencies at Headlands Center for the Arts, Fine Arts Work Center in Provincetown, Kala Art Institute, Tsarino Bulgaria, the Vermont Studio Center, LMCC's Swing Space on Governors Island and the Lower East Side Printshop. She received her BFA from Cooper Union.
David Horvitz has recently had solo exhibitions at Blum & Poe, Los Angeles; the New Museum, New York; Jan Mot, Brussels; Dawid Radziszewski Gallery, Warsaw; Chert, Berlin; Yvonn Lambert Bookshop, Paris; Pacific Northwest College of Art, Oregon; Fotomuseum Winterthur, Switzerland. He has realized projects with Recess, Clocktower Gallery, post at MoMA, Printed Matter, Rhizome, and Triple Canopy. He received the Rema Hort Mann Grant in 2011 and founded Porcino gallery in Berlin in 2013.
Anouk Kruithof is a Dutch artist, working between Mexico City, New York City, and The Netherlands. She has exhibited internationally at institutions such as MoMA, New York; the Stedelijk Museum, Amsterdam; Sprengel Museum, Hannover; and Multimedia Art Museum, Moscow. Her work is in the collections of Fotomuseum Winterthur, Aperture Foundation, FOAM, and the Stedelijk Museum. Anouk Kruithof is one of the five nominees of the Volkskrant Beeldende Kunstprijs 2016. Kruithof runs the publishing platform stresspress.biz and is co-creator, director and jury member of the Anamorphosis Prize.
Amanda Turner Pohan received her BFA from The School of Visual Arts and her MFA from Hunter College. As an extension of her art practice, Pohan is a co-founder of Temporary Agency, an artist-run nomadic platform for exhibitions and publications, as well as The Bakery Social Club, a monthly gathering for artists and designers.
Steven Zultanski is the author of four books of poetry, most recently Bribery (Ugly Duckling Presse, 2014) and Agony (BookThug, 2012).
Alison Burstein is the Program Director at Recess. Burstein previously worked as a member of the education departments at MoMA, the Guggenheim Museum, and the Brooklyn Museum and organized a wide array of public programs, performances, experimental classes, and artist projects across these institutions. As an independent curator, she has staged exhibitions at NURTUREart (Brooklyn, NY) and the Museum of Jurassic Technology (Los Angeles, CA). Burstein is a master's student in Art History at Columbia University.
Installation photography by Emily Kloppenburg
***
Knockdown Center's exhibitions are selected through a competitive open call for proposals. Through a multi-round process, exhibition proposals are reviewed by Knockdown Center's Curatorial Advisory Board and selected based on quality, distinctiveness, and response to Knockdown Center's unique site and context within an ecosystem of live events.
Founded in 2015, the Knockdown Center's Curatorial Advisory Board is currently comprised of seven sitting arts professionals with diverse but overlapping interests and fields of expertise. The Curatorial Advisory Board meets bi-annually to provide critical feedback on a wide range of proposals as well as contributing to discussions about larger programmatic goals. To learn more about proposing an exhibition or short-term project please visit our Proposals Page.