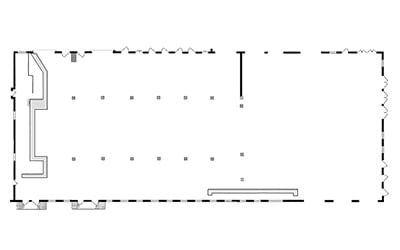 ARTISTS
Abby Echiverri & Leisure Muffin
Amnesia Scanner
Caterina Barbieri
Further Reductions
January Hunt + Octonomy
Nivhek (aka Grouper)
Pedestrian Deposit
rrao + Clay Wilson
Shredded Nerve + Jackson Pratt
The Bug + MISS RED
Tim Hecker + Konoyo Ensemble
Via App + Bookworms present: Asthyna
Without resting much after Unsound Krakow, Unsound is set to return to New York on November 22nd and 23rd. Unsound New York 2019 is the first step toward a new Unsound future in the city, with the two-day event culminating with Knockdown Center as the main presenter and venue. The focus of the 2019 program is entirely on live shows and performances.
22nd November, free opening concert at St. Peter's Church, Chelsea
Księżyc
23rd November 8pm-2am, Knockdown Center
Abby Echiverri & Leisure Muffin
Amnesia Scanner
Caterina Barbieri
Further Reductions
January Hunt + Octonomy
Nivhek (aka Grouper)
Pedestrian Deposit
rrao + Clay Wilson
Shredded Nerve + Jackson Pratt
The Bug + MISS RED
Tim Hecker + Konoyo Ensemble
Via App + Bookworms present: Asthyna
Resident Advisor: https://www.residentadvisor.net/events/1336293
Unsound New York 2019 is presented by Unsound and Knockdown Center in partnership with Blank Forms, The Bunker and Quo Vadis.
Soft Power is organised in collaboration with the Adam Mickiewicz Institute as part of the Polska Music programme and POLSKA 100, the international cultural programme celebrating the centenary of Poland regaining independence. Financed by the Ministry of Culture and National Heritage of the Republic of Poland as part of the multi-annual programme NIEPODLEGŁA 2017–2022.
Księżyc is presented by Blank Forms and the Polish Cultural Institute New York.
Caterina Barbieri and Miss Red are presented with We Are Europe.