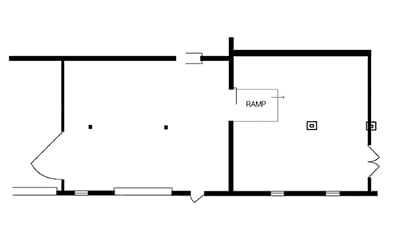 For this edition of the Jimmy's Thrift Of New Davonhaime Performance Series, third generation DJ Susan Z Anthony will be exploring and playing records from her archive of her grandfather's records. The archive is called Big Jeff's Records, as her grandfather, Big Jeff was a DJ and his collection spans the late 50's to mid 70's. Susan Z Anthony will also have ephemera from her grandfathers days as a set-up man (a term Susan Z Anthony has told us was used for DJ's of the time) including record sleeves, promotional material from some of the musical acts featured on the records and buttons / stickers from some of the radio stations Big Jeff worked with during his time playing music.
This is part of a series of events hosted within the space of Jimmy's Thrift of New Davonhaime, an exhibition by Azikiwe Mohammed currently on view in the Knockdown Center Galleries.
About Jimmy's Thrift of New Davonhaime
Currently on view at Knockdown Center, artist Azikiwe Mohammed has staged a performative installation of his fictional thrift store, Jimmy's Thrift of New Davonhaime. New Davonhaime – a location conceived by Mohammed – is an amalgamation of the names of the five most densely populated Black cities in America: New Orleans, Detroit, Jackson, Birmingham, and Savannah. Jimmy's Thrift of New Davonhaime was created to serve as a safe space for Black and Brown people living in America. Knockdown Center's galleries have been fully transformed into a thrift store that contains objects both created and found by Mohammed including tapestries, records, postcards, paintings, lamps, and books.