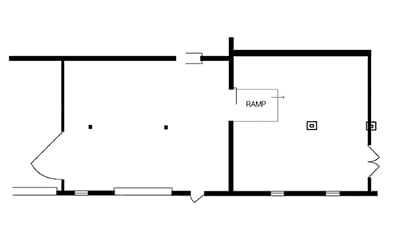 This fall at Knockdown Center, artist Azikiwe Mohammed stages a performative installation of his fictional thrift store, Jimmy's Thrift of New Davonhaime. New Davonhaime – a location conceived by Mohammed – is an amalgamation of the names of the five most densely populated Black cities in America: New Orleans, Detroit, Jackson, Birmingham, and Savannah. Jimmy's Thrift of New Davonhaime was created to serve as a safe space for Black and Brown people living in America. Knockdown Center's galleries will be fully transformed into a thrift store that contains objects both created and found by Mohammed including tapestries, records, postcards, paintings, lamps, and books.
Mohammed will be on site daily performing as the thrift store owner, Jimmy, accepting donations from the public in the form of photographs to be added to Mohammed's Black Community Family Albums, or audio-recorded memories that detail the first time participants realized they were Black. These recordings, called My First Time stories, will be compiled and turned into 12" records that are then added to the installation's growing collection. Both living archives offer an intimate and nuanced portrait of Black lives both contemporary and past.
Jimmy's Thrift of New Davonhaime also contains a music library that invites visitors to exchange music using Mohammed's custom New Davonhaime flash drives with an emphasis on visitors dropping off their original compositions to be shared with other visitors.
Previous versions of Jimmy's Thrift of New Davonhaime have shown at Spring/Break and No Longer Empty in 2016, and Knockdown Center's culminating presentation of Jimmy's Thrift of New Davonhaime will be its most extensive iteration yet.
Related Programs:
September 24: Josep Maynou and Alison Kuo
October 1: Grady Owens and GDFX
October 7: Documenting the Nameplate
October 27: DJ Susan Z Anthony
Azikiwe Mohammed graduated from Bard College in 2005 where he studied photography and fine arts. Since then he has shown these things in galleries both nationally and internationally. In 2015 he received the Art Matters Grant, and in 2016 was the recipient of the Rema Hort Mann Emmerging Artist Grant. He lives in New York and currently works at Mana Fine Arts as part of their mana BSMT program.
***
Knockdown Center's exhibitions are selected through a competitive open call for proposals. Through a multi-round process, exhibition proposals are reviewed by Knockdown Center's Curatorial Advisory Board and selected based on quality, distinctiveness, and response to Knockdown Center's unique site and context within an ecosystem of live events.
Founded in 2015, the Knockdown Center's Curatorial Advisory Board is currently comprised of seven sitting arts professionals with diverse but overlapping interests and fields of expertise. The Curatorial Advisory Board meets bi-annually to provide critical feedback on a wide range of proposals as well as contributing to discussions about larger programmatic goals. To learn more about proposing an exhibition or short-term project please visit our Proposals Page.