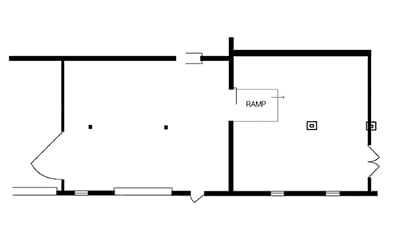 ARTISTS
A collaboration by Anjuli Rathod, Eduardo Restrepo Castaño, Oscar Moises Diaz and accompanying text by manuel arturo abreu.
Featuring contributions by Sayre Quevedo, Crack Rodriguez, Dyeemah Simmons, Carmelle Safdie, Lily Jue Sheng, Lucy Tomasino, Nancy Chavarria, Veronica Vides, Dyeemah Simmons, Justin Cabrillos & Matthew Shalzi, Mariana Herrera Castaño, Nancy Chavarria, Mauricio Esquivel, Rafia, Manuel Arturo Abreu, Yeiry Guevara, Julia Pimes Mata, Karina Puente
Organized by Sessa Englund
Knockdown Center is pleased to present the third rendition of Cura(Collected), an exhibition series that centers artists who curate. This edition features a collaborative project by Anjuli Rathod, Eduardo Restrepo Castaño, Oscar Moises Diaz with an accompanying essay by manuel arturo abreu. All three are creators whose involvement in the artistic community has had a generative impact on their local art scenes, and for this occasion each artist has brought in collaborators and community for a series of ongoing, cumulative performances and actions that will take place within an architectural structure inside of the gallery each week.
Born out of conversations between the three participating artists, the exhibition focuses on curation as an invested act. Exploring the type of spaces curators create, the show investigates how these spaces can be expanded to include ideals of care, empathy, and nurture. The artists maintain that curation within an artist-to-artist structure fosters a web of nuances that open up more intimate readings and handlings of art objects. By singling out actions and objects Rathod, Diaz, Restrepo, and their invited collaborators spotlight the familiarities that come out of certain social contracts. With respect to their ongoing areas of focus, this collaboration will result in a presentation of each artists' individual practices in a collective light.
SCHEDULE OF PUBLIC PERFORMANCES
Sunday, November 5
5:00pm – Me eligio with Mariana Herrera Castaño
Mariana Herrera Castaño's performance Me eligio asks audiences to participate in facilitating the translation between Spanish and English, music and spoken language.
6:00pm – as of it with Justin Cabrillos and Matt Shalzi
Justin Cabrillos presents a dance with performer and sculptor Matt Shalzi, examining contemporary manifestations of the sacred through morphing, repetitive movements. An emulsion of religious fervor, hallucinogenic ecstasy, hardcore moshing, and trance, Cabrillos and Shalzi respond to each other's somatic improvisations, superimposing gestures that result in sculptural formations that undulate in between abstract and bodily compositions.
Sunday, December 3
4:00pm – Five Movements with Anjuli Rathod and Lily Jue Sheng
Anjuli Rathod and Lily Jue Sheng present Five Movements, a multimedia work comprised of a video, painting, sculpture, and performance with contributions from Nyle Genevieve Kim Kaliski and Zach Hart. Sheng's choreography between forms explores a deeply personal and contemporary interpretation of Wu Xing, a traditional Chinese concept of elements and cycles. In Five Movements, the artists present a synesthetic environment, combining Sheng's inspirations from Taoist philosophy, lucid dreams, and ceremonial practices, and Rathod's interests in dreams, memory, animism, and hybridity. The artists' integration of their bodies navigate different spaces: between thought and action, theater and reality, immaterial and physical, interior and exterior. This collaborative effort considers the tradition of women practicing ritual in support of themselves and each other in healing from trauma and depression, and as a means of survival under systemic barriers and oppression.
6:00pm – recursos/resources with Eduardo Restrepo Castaño
Eduardo Restrepo Castaño restages their performance recursos/resources, a performative auction. In the piece, the artist auctions off one piece of work, along with three hours of labor to participating audience members. 100% of the money gathered will go towards a monetary fund that will be then given directly to a trans-femme individual in Restrepo Castaño's home town Quimbaya, Colombia.
SELECT ACTIVATIONS
In addition to ongoing contributions by the collaborating artists of Cura(Collected), participating artists have been invited to activate the architectural structure through performance and temporary installations, November 4th – December 3rd, 2017. Each installation will remain on view until the following iteration.
Saturday, November 4
In a collaboration between Anjuli Rathod and Karina Puente, a papel picado work by Puente will hang in the interior of the architectural structure anchoring the exhibition. Rathod will create a painting onto the light impressions filtered through the papel picado's carved mythological images. Inspired by the artists' conversations, together their work forms a narrative about the experiences of women of color in a world of unchecked power.
Thursday, November 9
A mini pop-up retrospective of Crack Rodriguez's work will be installed within the architectural structure, with accompanying text by Oscar Moises Diaz.
Sunday, November 11
Carmelle Safdie's Models for Imagined Nightclubs are reflections on the artist's communal creative experiences as a musician. In this immersive collage, Safdie will present various blueprints that serve as proposals for utopian places for equitable social connectivity and freedom of expression. Through graphic abstraction, Safdie creates a space for imagining a self uninhibited by societal constraints and repression.
Saturday, November 18
Eduardo Restrepo Castaño and Julia Pimes Mata will be on-site, engaged in the ongoing transformation of the architectural structure into a semi-permanent mural. Visitors are welcome to observe in a manner that is mindful of the artists and their processes.
Sunday, November 19
Oscar Moises Diaz will bring together the work of Nancy Chavarria, Veronica Vides, and Sayre Quevado in a video and sound installation related to Sayre Quevedo's re:construcción project. This project focuses on an oral history of the Salvadoran civil war, using audio and text recounting personal narratives from Chavarria, Vides and Diaz.
About the series
The Cura() series was originally conceived by Sessa Englund. For each exhibition three invited artists who have a strong curatorial practice work together to create a collaborative show, driven by conversation between the participating artists and their ongoing research. There is no traditional curator organizing the show, instead, the exhibition and essay are developed through this discussion. Cura() emerges from the tendency of many artists today using curation not only as a form of organization within their communities, but also as an inseparable part of their artistic practice. The series asks: is the role of the traditional curator necessary, or is a new role emerging from the shifting landscape of artists as organizers of their community? Cura explores these questions by making visible new networks that exist between artists, curators, and their collaborators.
About the artists
Anjuli Rathod lives and works in Queens, New York. She received a BFA from School of the Museum of Fine Arts, Boston and attended the AICAD/New York Studio Residency Program. She has participated in residencies at The Millay Colony of the Arts, the Studios at MASS MoCA, and the Shandanken Project. Her work has been published in Lumina Journal and Hyperallergic. She also co-founded Selena, an artist-run space in Brooklyn. She has an upcoming exhibition at Projet Pangeé, Montreal.
Eduardo Restrepo Castaño graduated from Tufts University in Boston, Eduardo Restrepo Castaño examines, through a practice that draws from academic, artistic, and lived experience, the relationship between social imaginaries surrounding nature, gender difference, and the diasporic condition. Co- founder of curatorial platform Sweety's, as well as participant at Skowhegan School of Painting and Sculpture, Restrepo Castaño has exhibited in spaces such as: SOMA (Mexico,) Musée de l'Élysés (Switzerland,) and Bruce High Quality Foundation (New York,) Museum of Jaén (Spain.) Restrepo Castaño has been he recipient of Full Tuition Bright Futures Scholarship, from Florida Department of Education Merit Scholarship, from School of the Museum of Fine Arts, 1st Place Photography Award, From Here… 32nd Annual Exhibition, Stephen D. Paine Full Fellowship, From the Boston Foundation, Ann and Graham Gund Fellowship, sponsored participation at Skowhegan '13
Óscar Díaz is a Salvadoran artist born in Soyapango, but lives in Brooklyn, NYC. Recent exhibitions Including the Sonora for the X Biennial of Central America, a solo show at the Museum of Contemporary Art & Design, Costa Rica, PERFORMEANDO at the Queens Museum, The Wrong: New Digital Art Biennial and Espacio Intermedial for The International Film of San Salvador.
manuel arturo abreu is a poet and artist from the Bronx. They work in text, ephemeral sculpture, photography, and whatever is at hand. They co-facilitate home school, a free pop-up art school in Portland, OR.
About the organizer
Sessa Englund was born in CT, USA but spent their formative years in Sweden. They currently live and work in NYC and Gothenburg, Sweden. Their practice encompasses: sculpture, design and curating. They are also the Co-Founder and, co-Curator of Disclaimer Gallery, and the Cura(projects) series. Sessa, has a Bachelors of Fine arts from School of Art+Design, SUNY Purchase (2013). Their work has been exhibited internationally. Recent exhibitions include: MoCA Denver, Transmitter Gallery, Satellite Art Fair, Miami Art Basel. Their work has been written about and published in New York Times, i-D, Floorr Magazine, Hyperallergic, Whitehot Magazine and Posture Magazine. They has also participated in residencies such as: TFNF (Dumbo, NYC), and an upcoming residency at AADK Centro Negra in Blanca, Spain.