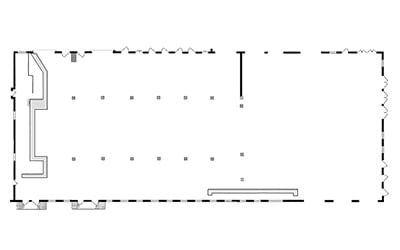 ARTISTS
Felicita, Śląsk Song and Dance Ensemble, and Speaker Music (DeForrest Brown, Jr.)
Soft Power is a performance that combines traditional Polish dance and experimental music by Felicita. The evening will begin with a performance by Speaker Music (DeForrest Brown, Jr.), titled a Black rhythm happening to fill a crease.
Originally from London, Shanghai-based Felicita works with fractured sounds. Soft Power was originally commissioned by Unsound, in collaboration with traditional dancers from Śląsk Song and Dance Ensemble, the oldest and most renowned company of its kind in Poland. This unique work synthesizes traditional choreography and costume with new music to create a hypnotic multimedia experience. The concept stems from Felicita's childhood education in traditional dance, and explores folk culture, national identity, tourism, branding, illusion, and farce. The music itself is a fusion of Polish folk, noise, trap and chamber music, and was released last year by PC Music, fitting beside releases by the likes of SOPHIE and Danny L Harle.
As Ben Ben-Beaumont Thomas wrote in The Guardian: "Folk dances, involving lots of twirling around and dramatised romance, are paired with plangent piano melodies, scorched ambient noise and, most incongruously, wild synthetic pop. Despite (or rather because of) the aesthetic clashes, it hangs together in a supremely atmospheric whole. Devised in the wake of Brexit, it's a stirring affirmation of how cultures can coexist while retaining their own voices."
The evening will begin with a set by Speaker Music (DeForrest Brown, Jr.) titled "a Black rhythm happening to fill a crease," a new improvised composition expanding on the lush ensemble energy music found in his debut album of desire, longing (Planet Mu, 2019). Referencing free jazz trumpeter Eddie Gales' culturally noteworthy 1969 album Black Rhythm Happening, Speaker Music probes further into the sonic narratives of African American expression towards a novel rhythmic and romantic abstraction of vibration and frequency.
Speaker Music is a digital audio and extended media praxis by New York-based rhythmanalyst DeForrest Brown, Jr. His work is concerned with speculative futures in performative contexts and programmatic intersections of technology and thought. He is a representative of the Make Techno Black Again campaign, and his most recent writing can be found in Artforum, Hyperallergic and Afropunk. In 2020, Brown, Jr. will publish a book related to a talk given at Unsound Kraków, entitled "Assembling a Black Counter-Culture" with Primary Information.
Note: this show was originally part of the Unsound New York 2019 lineup, and had to be moved to this date due to unforeseen reasons.
Organized in collaboration with the Adam Mickiewicz Institute as part of the Polska Music program and POLSKA 100, the international cultural program celebrating the centenary of Poland regaining independence.
Financed by the Ministry of Culture and National Heritage of the Republic of Poland as part of the multi-annual programme NIEPODLEGŁA 2017–2022