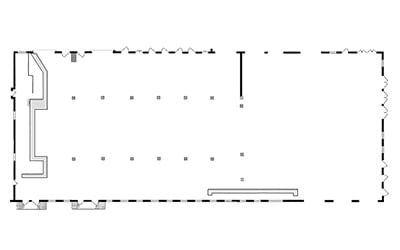 ARTISTS
Plan 23
SMOMID
Raphaele Shirley & Algis Kizys
Creative Tech Week presents the Arts Hub. In the main hall, 50 digital, VR and electronic artworks are on display for Stronger Together, an exhibit of work by computer art department faculty of 10 area universities. Join us for two evenings of art; pioneering electronic and experimental music; hands-on 3D printing workshops; and food and drink at the Ready Room onsite at the Knockdown Center.
Plan 23 with live visuals by Zarah Cabanas, Chris Jorden & Sofy Yuditskaya
Plan 23 creates extended audio-visual experiences that bend one's perception of time and space. Encompassing a sonic spectrum from dark-ambient soundscapes via subliminal pulses to electronic sounds the group delivers sonic explorations into uncharted spaces; combining music and visuals into an engaging sensory journey – redefining psychedelic sound for the 21st century.
SMOMID
Compositions with algorithmic and AI processes that bring in the computer as an additional creative participant.
Raphaele Shirley & Algis Kizys
12.6 Lyrae/le chiffre is an immersive site-specific installation and live performance by the artist Raphaele Shirley in collaboration with musician and composer Algis Kizys, with musicians Vinnie Signorelli, Laura Ortman and Eric Hubel. A visual and auditory landscape that creates a journey through time space, a poetic exploration of states of being through layered abstract combinations.
Curated by Carol Parkinson, Harvestworks, and Wolfgang R. von Stuermer (aka WvS), Ab Uno Pluribus.
Two night tickets available here:
http://www.ticketfly.com/event/1469604-creative-tech-week-arts-hub-maspeth/
Details about the exhibition and workshops here:
https://knockdown.center/event/stronger-together/