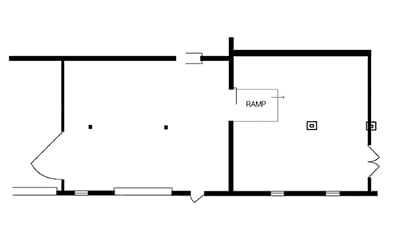 Performance Schedule
June 29, 7:30pm – 9:00pm | DJ Black Helmet Performance
July 7, 6:00pm | Zaid Islam Performance
August 18, 5:00pm – 8:00pm | The Modern School Jazz Trio Performance
See below for performance info 
About the Exhibition
Knockdown Center is pleased to present Pigeonhole: The Life and Work of Bobby Alam, a new exhibition by Priyanka Dasgupta and Chad Marshall. Pigeonhole is a multidisciplinary portrait of Bahauddin "Bobby" Alam, a Bengali peddler and sailor and who arrived in the United States in 1918 and lived as a Black jazz musician in New York and New Orleans. The exhibition memorializes Alam's career and explores his personal navigation of an especially precarious period in American history, prompting a reflection on the complexities of racial passing as a means for marginalized people to circumvent violence.
Alam is a composite of historical realities and imagined truths. His identity is inspired by the history of Bengalis passing as black in the United States, settling into communities of color in order to circumvent anti-Asian immigration laws, as recorded in Vivek Bald's book Bengali Harlem and the Lost Histories of South Asian America. The artists deploy these histories to bring to light the ways in which passing can function as a strategy for survival.
The installation portrays Alam's dressing room, rehearsal space, and performance stage in the kind of juke joint where he would have spent his evenings constructing and performing his adopted identity. Objects within the installation highlight Alam's life and career as a musician: a zoot suit embellished with Indian kantha style embroidery, old handbills and concert posters, musical compositions, video documentation from Alam's rehearsals, and private recordings. Clues within each of these objects reveal, upon close reading, the staged and dual nature of Alam's identity, which subtly trespasses the lines between reality and fiction.
Over the course of the exhibition, contemporary musicians inspired by Alam will take the stage and perform live, enabling the past evoked by the installation to live once again, while resonating with Knockdown Center's function as a music venue. Additional elements of the exhibition will extend into Knockdown Center's outdoor spaces, restrooms, and bar.
Pigeonhole: The Life and Work of Bobby Alam is realized through collaborations with Elias Meister and Hammarsing Kharhmar, celebrated through performances by Azikiwe Mohammed, Zaid Islam, Christopher Hall, Michael Howell and Leroy Willams and additional musicians. The exhibition supported in part by Knockdown Center, Smack Mellon, Materials for the Arts, and the Foundation for Contemporary Arts.
About the Performances
DJ Black Helmet Performance
Saturday, June 29 | 7:30 – 9:00pm
Artist Azikiwe Mohammed will perform as DJ Black Helmet at the opening reception to kick off a series of performances over the course of the exhibition inspired by Alam's musical career. DJ Black Helmet will play a DJ set infused with Alam's influences, including the sounds of New Orleans Dixieland jazz, blues, and Baul music from West Bengal and Bangladesh. The set is inspired by Alam's roots as well as his musical career in the United States in the 1920s through the 1950s, and also includes original compositions by contemporary musicians whose journeys and influences resonate with Alam's complex history and hybrid identity.
Zaid Islam Performance
Sunday, July 7 | 6:00pm
Zaid Islam will perform selection of Bengali Baul songs on the performance stage, transporting the audience to these mystic sounds from the east that were an early influence on Bobby's life and music, and which he carried with him through his time in the United States.  Zaid is a Bangladeshi artist based in New York, who has spent considerable amount of time and has strong bonds with Bauls and Fakirs from Kushtia (Lalon Fakir's home) and other regions of Bangladesh, and India. Zaid is not a musician or an expert on the subject, but someone whose views and lifestyle have been greatly influenced by the philosophy and music of these mystic people.
The Modern School Performance
Sunday August 18 | 5 – 8pm
For the closing of Pigeonhole: The Life and Work of Bobby Alam, the jazz trio "The Modern School" will perform a selection of music on the performance stage in the installation, comprised of Dixieland Jazz and Dixieland inspired compositions, drawing on Alam's career as a Jazz musician.
"The Modern School" is comprised of Christopher Hall (bass), Michael Howell (guitar), and Kahlil Kwame Bell (drums).  "The Modern School" is named after the elementary school that inspired bassist Christopher Hall's initial interest in jazz. Hall has been performing on the stage of the New Amsterdam Musical Association in New York City since 2003, and has been a fixture in the Harlem Jazz scene for over a decade. He has also performed on contrabass with the New Beginnings and Westchester Brassmen Drum, and Bugle Corps. Committed to teaching through music, Hall has worked with myriad cultural organizations including the National Council of Negro Women, the American Museum of Natural History, Concrete Timbre Performance Collective, and the 1st Stage Theatre.
An innovative and skillful guitarist from Kansas City, Michael Howell was inspired and taught by his father, noted guitarist, Herley Dennis. Howell has recorded three solo albums: "Alone" on Catalyst Records, and "Looking Glass" and "In The Silence" on Mile Stone Records. He also performed with musicians including Bobby Hutchenson, Hampton Hawes, Art Blakey, George Duke, Gene Ammons and Woody Shaw. Howell has also worked closely, and toured with one of the great bebop inventors – the music genius and master entertainer – Dizzy Gillespie.
Kahlil Kwame Bell, having made numerous recordings with musical icons and legends as well as with his own talented band, has been called "one of the most prolific musicians in the industry today." Bell plays over numerous percussion instruments and has experimented with wood and clay flutes. His musical output varies from jazz to rock to hip hop; from European classical to world music; from spirituals to spoken word accompaniments. His layering of sounds and instruments, sometimes blended with unique rhythms, reflects his view of the unity of cultures through music.
About the Artists

Priyanka Dasgupta and Chad Marshall began collaborating in 2015. Their work is located in the gaps between history and story-telling, and draws from archival texts, sociological conventions, oral histories, postmodern theory and postcolonial studies, to examine power and privilege in the United States, and its relationship with image, and appearance. Exhibitions of their collaborative work include Pigeonhole, Dodd Galleries, University of Georgia (2019), Sunroom Project Space: Paradise, at Wave Hill, New York (2018), How to see in the dark, at Cuchifritos Gallery, New York (2018), Not an edge but a hinge, at Abrons Arts Center, New York (2018), In Practice: Another Echo at Sculpture Center, New York (2018), Loving Blackness and A More Perfect Union at the Asian Arts Initiative, Philadelphia (2017), Ornate Activate at the Villa Terrace Decorative Arts Museum, Milwaukee (2017) and Shirin Gallery, New York (2015). Residencies include the Artist Studio Program at Smack Mellon (2018) and AIRspace at Abrons Arts Center (2018).
This exhibition is organized by Alexis Wilkinson, Knockdown Center Director of Exhibitions and Live Art.
***
Knockdown Center's exhibitions are selected through a competitive open call for proposals. Through a multi-round process, exhibition proposals are reviewed by Knockdown Center's Curatorial Advisory Board and selected based on quality, distinctiveness, and response to Knockdown Center's unique site and context within an ecosystem of live events.
Founded in 2015, the Knockdown Center's Curatorial Advisory Board is currently comprised of seven sitting arts professionals with diverse but overlapping interests and fields of expertise. The Curatorial Advisory Board meets bi-annually to provide critical feedback on a wide range of proposals as well as contributing to discussions about larger programmatic goals. To learn more about proposing an exhibition or short-term project please visit our Proposals Page.