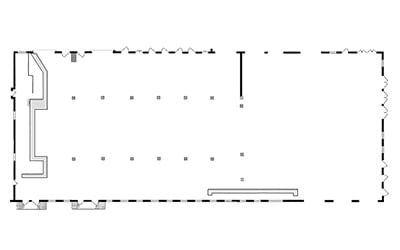 ARTISTS
John Maus / Boy Harsher / Ben LaMar Gay / DEBBY FRIDAY / Don Slepian / Katie Gately / Patience / Rena Anakwe
Outline is a new Knockdown Center-produced series of multi-disciplinary events centered on music that showcases artists of all stripes. Unique each season, Outline will explore and expand Knockdown Center's distinctive architectural and programmatic context.
The series kicks off with Outline: Winter, marking the leap year on February 29th, 2020 with a headline performance by avant-pop stylist John Maus and a lineup specially selected to bid farewell to the cold.
Throughout 2020, Outline will showcase artists across genres, pairing rising talent with industry legends, incorporating visual art and performance to demonstrate how each discipline informs and enhances one another. Events will utilize the distinct spaces within Knockdown Center in new and unexpected ways, creating moments that could only happen here.
An eclectic mix of artists join John Maus and Boy Harsher for the Outline debut, presenting an experience that crosses genres. Avant-pop artist Katie Gately will celebrate the release of her highly anticipated second album, Loom, with an exclusive New York City appearance. Ben LaMar Gay, a lynchpin of Chicago's vital jazz scene, will perform a dark ambient set as a duo with Bitchin Bajas instrumentalist Rob Frye. Breakout experimental producer DEBBY FRIDAY from Vancouver, B.C., Patience, the new project from ex-Veronica Falls vocalist Roxanne Clifford, and new age synth pioneer Don Slepian will also perform.
An immersive installation by artist Aya Rodriguez-Izumi will accentuate the unique architectural elements of Knockdown Center's space with tinsel, and serve as an atmospheric setting for experimental sounds. Interdisciplinary artist Rena Anakwe will accompany Rodriguez-Izumi for an opening performance in the specially created space.
The series name references Knockdown Center's beginnings as a manufacturer of door frames and glass windows, functional outlines that allow entrance into new places and views of outside points. It also reflects the present and future of the space, an unmistakable architectural structure that can be filled in and transformed radically, depending on what's held inside.
From the Winter show, Outline installments will follow regularly, with Spring, Summer, and Fall lineups developed to reflect the passing seasons. Look out for announcements on upcoming events!
RSVP here: http://bit.ly/OutlineWinterRSVP
Tickets are on sale now: http://bit.ly/OutlineWinter
◾️ JOHN MAUS ◾️ The multi-talented musician, singer, songwriter, composer and academic is known for his intense stage presence and sounds that bridge the gap from 1980s synth-pop and post-punk to Medieval music.
◾️ BOY HARSHER ◾️ BOY HARSHER is a dark electronic duo that produces gritty dance beats infused with ethereal vocals, creating a sound that is eerie, intense and incredibly danceable. Augustus Muller develops the underbelly of sound with minimal beats and grinding synths, where Jae Matthews whispers, screams and chants on top. Together, the music created is somewhere between industrial, drone and confessional storytelling. Muller and Matthews both have a strong background in film and their cinematic approach translates effectively in both their recordings and live performance. 
◾️ BEN LAMAR GAY ◾️ Prolific composer and cornetist Ben LaMar Gay is a lynchpin of Chicago's thriving jazz scene, able to hop between free jazz and soul funk, from Brazilian bossa-nova to disquieting ambient drone.
◾️ DEBBY FRIDAY ◾️ A self-described experimentalist, born in Nigeria, raised in Montreal, and now working in Vancouver; DEBBY FRIDAY is an anomaly. Her work spans the spectrum of the audio-visual, resisting categorizations of genre and artistic discipline. She is at once a sound theorist and musician, composer and performer, video artist, poet and PUNK GOD.
◾️ DON SLEPIAN ◾️ A computer engineer turned ambient artist, Don Slepian is mostly known for his remarkable, electronic piano pieces. Ethereal, delicate, and intricately commanding, Slepian boasts twirling synths and improvised, whimsical songs.
◾️ KATIE GATELY ◾️ American experimental electronic musician Katie Gately utilizes a plethora of computer programs to reshape her voice into dense, occasionally unsettling sound constructions. Her unpredictable compositions run from industrial collages to playful, abstract pop tunes, exhibiting an absurdist sense of humor and an ear for rhythm and melody.
◾️ PATIENCE ◾️ Patience began as a bedroom synth project for songwriter Roxanne Clifford after the break up of her acclaimed indie-pop band Veronica Falls. Born out of a desire to experiment with a new sound and analogue synthesizers, the project has since grown to become an all-encompassing persona and serves as the main vehicle for the full emotional spectrum always latent in Clifford's songwriting.
◾️ AYA RODRIGUEZ-IZUMI ◾️ Aya Rodriguez-Izumi is an interdisciplinary artist whose work blends installation, performance, video and beyond to explore aspects of ritual retention and cultural identity through marginalized histories. She was born in Okinawa, Japan, and grew up between that island and East Harlem, NY, where she currently lives and holds a studio. Her work has been exhibited through group and solo presentations at venues such as El Museo del Barrio, MoCADA, the Knockdown Center, Rush Arts Gallery, Pulse Miami Beach, the Material Art Fair in Mexico City and the International House of Japan in Tokyo among others. She was the recipient of the Emma Bee Bernstein Fellowship at A.I.R. Gallery in New York in 2017-2018, a Jerome Foundation Fellowship at Franconia Sculpture Park in Minnesota in 2018, and the 2018-2019 JUSFC Creative Artist Fellowship supported by the National Endowment of the Arts. Rodriguez-Izumi earned a BFA in Fine Arts from Parsons the New School for Design in 2009, an MFA in Fine Arts from The School of Visuals Arts in 2017. In 2019 she joined the MFA Fine Art faculty at her graduate alma mater of SVA.
◾️ RENA ANAKWE ◾️ Rena Anakwe is an interdisciplinary artist and performer working primarily with sound, visuals, and scent. Exploring intersections between traditional healing practices, spirituality and performance, she creates works focused on sensory-based, experiential interactions using creative technology. Rena was a 2019 ISSUE Project Room Artist-in-Residence, a 2019 Abrons Arts Center (AAC) Sound Series commissioned artist, a 2018 Signal Culture Artist-in-Residence and has collaborated, produced and shown audio/visual/scent work at venues including: Lincoln Center (NYC), BAMcafé (NYC), MoMA PS1 (NYC), CultureHub (NYC), Pioneer Works (NYC), and Montez Press Radio (NYC). She is based in Brooklyn, New York by way of Nigeria and Canada. || aspaceforsound.com