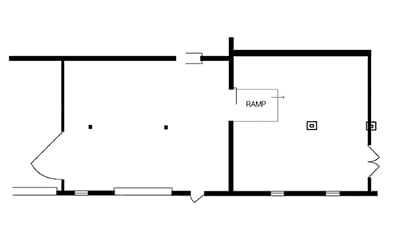 ARTISTS
Cindytalk
Eric Random
Das Ding
Artefactos De Dolor
VerticalSilence
Interval
Tear Apart Tapes
Minimal Wave
Nico + The Faction
Cabaret Voltaire
The Tiller Boys
The Pressure Company
Mute Records
Les Disques du Crépuscule
DoubleVision
LTM Recordings
New Hormones / Factory Records
Dark Entries Records
art / projection / installation:
Egill Kalevi Karlsson
Andries Boekelman
Todd Sines
On 21 May 1993. the first ele_mental event at an Ohio State University parking garage, launched the careers of many midwestern electronic musicians; from Dieselboy, Archetyp, Todd Sines & Titonton. Their next event, Comfort, with almost a thousand attendees, crystallized their long-standing association with Detroit's own Jon Santos, Brian Gillespie, Claude Young Jr. / Claude Young, Anthony Shakir, Mack Goudy Jr., and by nature, Daniel Bell, Carl Craig, UNDERGROUND RESISTANCE and more.
ele_mental's core has consistently challenged the notion of art, movement, and music, with their active_not_passive ambient series, ele_ment series of live concerts with influencers and the influenced, FIREXIT, a collaboration with Matt Clausen & Daniel McMahon: bringing The Rapture, Mouse on Mars, Tortoise's Chicago Underground Duo, OVAL, Robert Henke's Monolake project, and Stefan Betke as POLE.
After their moves to NYC, Charles and Todd continued to push into new territory, with the launch of their band, INTERVAL featuring close friend Andries Boekelman; in their quest for the right fit for a label, they launched HELIC.AL, a response to creating long-last artifacts of pure analog / physical recordings; and their new projects Artefactos De Dolor with Beyond Booking (The Bunker)'s Alyssa Barrera / LDY OSC, and VerticalSilence, a new post-punk project from Charles Noel.
As HELIC.AL explores new dimensions in form, space, and sound, they make a concerted effort to connect with the sounds of yesterday as they still infer the sounds of tomorrow. We honorably welcome the performance of Gordon Sharp [ex- The Freeze, This Mortal Coil, Cocteau Twins] as Cindytalk, whose haunting, chilling, gender-fluid voice has been the soundtrack for many of us for over 30 years.
Eric Random has had an equally influential position in the annals of industrial music, having recorded with Cabaret Voltaire Official's Stephen Mallinder & Richard H Kirk as The Pressure Company, Nico as The Faction, The Tiller Boys, in addition to his own unique, angular psych dub / funk under the Eric Random umbrella. With re-releases due on Dark Entries Records, SLEEPERS RECORDS, and forthcoming studio time with Todd + Charles of HELIC.AL, Eric's well on his way to making more sonic memories.
Veronica Vasicka re-opened the doors for Danny Bosten as Das Ding, a Dutch graphic designer / bedroom synth-producer whose riveting performance with Sean Mcbride at one of Wierd Records's final nights left a huge dent in the developing tones of HELIC.AL. From "H.S.T.A." to "sad but true" the Das Ding sound is perfection its effortless, minimal synth charm. Danny now has revitalized his Das Ding project replete with his own modular rig and dozens of tracks on the horizon
*LINEUP*
live
Cindytalk
of This Mortal Coil, Cocteau Twins, The Freeze, Bambule
4AD, Editions Mego, Midnight Music, Praxis
DEBUT US APPEARANCE:
Eric Random
Nico + The Faction, Cabaret Voltaire Official, The Tiller Boys, The Pressure Company
Mute Records, Les Disques du Crépuscule, DoubleVision, LTM Recordings, New Hormones / Factory Records & Ex Factory Records Bands/Groups/Artists Etc, Dark Entries Records
Das Ding aka Danny Bosten
Tear Apart Tapes, Minimal Wave
Artefactos De Dolor
VerticalSilence
INTERVAL
art / projection / installation
Egill Kalevi Karlsson
Andries Boekelman
Todd Sines