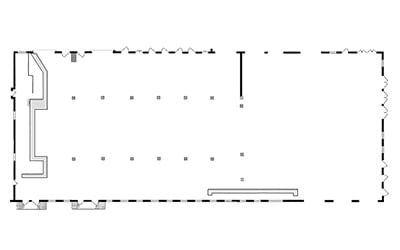 ARTISTS
James Murphy (DJ Set)
Despacio brings its eight-hour vinyl-only odysseys to New York! Conceived by James Murphy (LCD Soundystem, DFA Records) and David and Stephen Dewaele (Soulwax, 2manydjs), Despacio creates an experience like no other. James, David & Stephen will be behind the decks for three daily eight-hour sessions from 8pm to 4am throughout Despacio's run at the Knockdown Center.
About James Murphy
James Murphy is one of the most influential musical figures of the last two decades. As founder and principal of LCD Soundsystem, he has created four of the most acclaimed albums of the millennium—including the recent #1 AMERICAN DREAM (Columbia Records/DFA), which featured the Best Dance Recording GRAMMY-winning track "tonite"—while the band continues to be one of the top drawing live acts on the international circuit. Murphy is also founder of the DFA label, a renowned producer whose credits include albums by Arcade Fire and Yeah Yeah Yeahs, an in-demand remixer, guest musician on the likes of David Bowie's ★, composer of scores for films including Greenberg and While We're Young, and, of course, DJ with exquisite taste and great love of dark and obscure, undiscovered music, in the disco and house tradition.

About 2manydjs
Brothers David and Stephen Dewaele are famous worldwide as both Soulwax and 2manydjs who's album "As Heard On Radio Soulwax Pt. 1" completely revolutionized the dance music landscape in the early 2000s, for its imaginative mixture of artist and genres from all eras. As Soulwax they chartered new territory again with Nite Versions, a remix album of their own record Any Minute Now.  With Radio Soulwax they tore up the rulebook again creating and curating an app and website featuring 24 one hour mixes with accompanying visuals based on the sleeve artwork of the records used. The app has had to date over 600,000 downloads. In March 2017 Soulwax released 'From Deewee', their new album recorded  in a single day in their Deewee studio. Deewee is also a label, record collection and a publishing house, all contained within the same building.
About McIntosh
Founded in 1949, McIntosh Laboratory is known for offering distinguished quality audio products, superior customer service and the ultimate experience in music and film.  All McIntosh products are handcrafted at the Binghamton, NY factory by 130 employees with a passion for music and the McIntosh heritage.  McIntosh continues to define the ultimate home entertainment experience for discriminating consumers around the world, with the iconic "McIntosh Blue" Watt Meters globally recognized as a symbol of quality audio.  Since its inception, McIntosh has been powering some of the most important moments in music history and pop culture.  From President Lyndon Johnson's inauguration speech, to Woodstock, to the infamous Grateful Dead "Wall of Sound," McIntosh has not only witnessed history, it has shaped it.  With McIntosh, customers have the ability to create their own premium audio experience – and truly live their music.