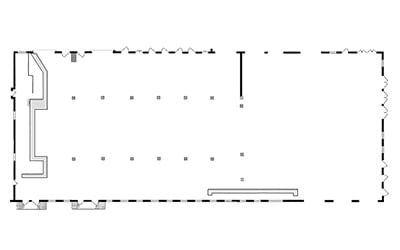 ARTISTS
Ben Klock
Anthony Parasole
Newa
Knockdown Center presents Ben Klock (Ostgut Ton, Klockworks)
with support from Anthony Parasole (Ostgut Ton, Output), Newa (Klockworks, Semantica, Bassiani)
Knockdown Center is thrilled to welcome Klockworks label-founder Ben Klock to its main space on November 23rd, 2018 along with Output resident Anthony Parasole, and Klockworks labelmate Newa in support. A fixture in Resident Advisor's top-10 DJs for the better part of a decade, Ben Klock needs little introduction. Having become a Berghain resident in 2005, he has since established himself at the forefront of Berlin's modern Techno movement, an ever-present symbol of the city's vast musical landscape. His long-standing relationship with the notorious Techno institution has formed the backdrop to his success, providing an invaluable platform that has allowed him to become one of the most in-demand DJ/producers of the current generation.
Those who have witnessed him perform will note not only the diversity in his track selection, but also his ability to create a room rather than just play to it. Though intense and powerful, his DJ output reflects a certain kind of fervour, capturing an artistry and emotion that can often appear absent from the Techno genre. He also possesses a wonderful understanding of how to adapt his music to the circumstances, a competence that means he can be found at both large-scale festivals and small intimate club settings around the world.
Klockworks, a label Ben founded in 2006 as a home for his more raw and minimal productions, has shifted its focus over recent years to become a medium for him to present his more diverse personal tastes and support developing talents. The growth of the label has been aided by a series of showcases at various international locations, including London's Village Underground, New York, Barcelona, Detroit and Berlin, with more on the horizon.
Anthony Parasole should also need no introduction to newer or longer-standing dancers of the New York Deep House and Techno scenes. Born and raised in Brooklyn, NY, Anthony Parasole has had a lifelong love affair with electronic music. Listening to radio shows playing the early dance tracks from New York, Chicago, Detroit, and beyond, really perked up his ears. His earliest experiences at the New York clubs and Storm Raves blew his mind wide open. His engulfment in this gritty New York street music and culture is an influence on his style to this day, not only in his music but in the entire artistic aesthetic of his labels.
Anthony has productions out on his own labels, The Corner & Deconstruct, as well as for Marcel Dettmann's mighty Techno imprint MDR. Parasole has since made the progression to resident at Berghain and through this platform he began shaping his sound and technique, pushing his deep, raw, driving, rhythmic, percussive, and mesmerizing sound that club-goers have come to know and love. Soon after, Anthony became resident at Output in his home town Brooklyn, NY and he continues to consistently challenge dancefloors worldwide.
Newa (real name Ana Kublashvili) hails from Tbilisi, Georgia, and has grown into one of the most talented and recognized producers from the region. Being the first female DJ/producer to have releases on Ben Klock's label Klockworks, with additional releases on Bassiani and Semantica, Newa has played alongside Klockworks artists at Photon showcases at Berghain, Bassiani and others across the world.