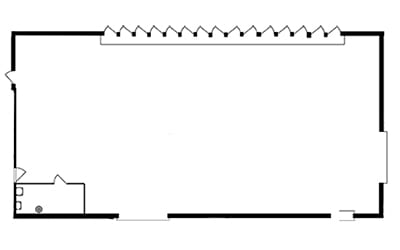 ARTISTS
Whoop Dee Doo
with: Calpulli Mexican Dance Company, Ñukanchik Llakta Wawakuna, Teens from Maspeth Town Hall Community Center
This month, Whoop Dee Doo artists stage a long term installation in Knockdown Center's Annex, working closely with teens from Maspeth Town Hall Community Center and local performance groups Ñukanchik Llakta Wawakuna and students from the Calpulli Community – a program of Calpulli Mexican Dance Company – to create a series of free public programs that culminate in a final live performance and immersive set. The final performance will emphasize and celebrate the historic diversity of Queens, and the creative talents of Knockdown Center's surrounding community.
Interpretation services generously provided for the final performances by Caracol Interpreters Cooperative, and translation audio equipment donated by Immigrant Movement International.
Members of the public are invited to engage with Whoop Dee Doo and their community of collaborators during open-doors workdays on Saturdays from 2 – 7pm!
About Whoop Dee Doo
Whoop Dee Doo (est. 2006) is a traveling, artist-led project and non-profit organization that creates ambitious installations and live performances as collaborations with community groups. Whoop Dee Doo often works closely with underserved youth groups to research, conceive and create their projects. Whoop Dee Doo has created commissioned projects for organizations including the Smart Museum in Chicago, SFMOMA San Francisco, Loyal Gallery in Sweden, The Contemporary in Baltimore, and Abrons Arts Center in New York City, among others, and recently completed a 6-month project series as a 2016 artist-in-residence with the Education Department at the High Line (NYC). Whoop Dee Doo is a 2016-2017 Franklin Furnace Grant Recipient, and is a featured artist project on the Art21 series "New York Close Up". www.whoopdeedoo.tv
For a more in-depth look into Whoop Dee Doo's process and behind-the-scenes, please visit:
https://art21.org/watch/new-york-close-up/welcome-to-whoop-dee-doo-with-matt-roche-jaimie-warren-too/
About Maspeth Town Hall Community Center
Maspeth Town Hall Community Center is an organization that has served thousands of students for the last 11 years. During afterschool programs, students are given an hour every day to do their homework with the help of our trained counselors and staff, and offered many academic activities such as STEM, literacy enrichment, arts and crafts, junior achievement, team building games, and much more! Maspeth Town Hall also offers family and community events that emphasize several festivities throughout the year. The organization's priorities are to increase student's academics independence by giving them access to more material and instruction relevant to their studies and interests.
About Ñukanchik Llakta Wawakuna
Ñukanchik Llakta Wawakuna is a collective project where we use the art of dance to educate the different branches, strengthen our identity and most of all the excellence of our first Andean immigrant's generation. Wawakuna(children) does not only focus on the kids but also educates the parents about their rights as immigrants, residents and remain proud of being campesinos (peasants) or indigenous. Wawakuna believes in the importance of preserving the cultural identity. Wawakuna uses the tool of art, such as painting, writing, dancing, music, and singing, to express our emotions, express the injustice occurring in our community, build leadership for parents and kids, and applying it as part of healing.

About Calpulli Mexican Dance Company
Calpulli Mexican Dance Company's vision is to reach audiences globally with high quality artistic works and captivating stories and cultural narratives and productions. It also seeks to be a premier educational resource for teachers and students excelling in cultural enrichment through the performing arts. Lastly, Calpulli aims to serve our community with accessible, high-quality community programming and performing arts training.

About the Caracol Interpreters Cooperative
The Caracol Interpreters Cooperative opens multilingual channels of communication to ignite language justice in our community. We work to create a world where language is not a barrier for exchange, but a helpful tool that can be used democratically to communicate, learn and strategize together.
About Immigrant Movement International
IM International is a community space where practical knowledge is merged with creative knowledge through arte útil with a holistic approach to education open to all regardless of legal status.
IM International is a think tank that recognizes (im)migrant's role in the advancement of society at large and envisions a different legal reality for human migration.
IM International is a lab practicing artivist tactics and new tools for communication in the public sphere to access political dialogue in an effort to transform social affect into political effectiveness.
IM International is an educational platform formulating sustainability systems and creating alternative economies based on a culture of reciprocity not economic advantage.
***
Knockdown Center's exhibitions are selected through a competitive open call for proposals. Through a multi-round process, exhibition proposals are reviewed by Knockdown Center's Curatorial Advisory Board and selected based on quality, distinctiveness, and response to Knockdown Center's unique site and context within an ecosystem of live events.
Founded in 2015, the Knockdown Center's Curatorial Advisory Board is currently comprised of seven sitting arts professionals with diverse but overlapping interests and fields of expertise. The Curatorial Advisory Board meets bi-annually to provide critical feedback on a wide range of proposals as well as contributing to discussions about larger programmatic goals. To learn more about proposing an exhibition or short-term project please visit our Proposals Page.