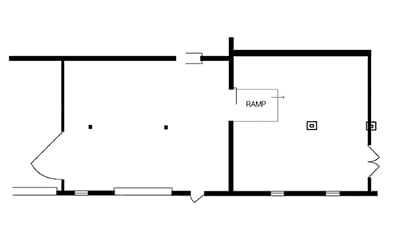 ARTISTS
Tom Butter, Lars van Dooren, Juliette Dumas, Todd Fink, Langdon Graves, Rachel Harrison, Corin Hewitt, Ross Knight, Andres Laracuente, Jen Mazza, William McMillin, Thomas Stevenson, Alina Tenser, Steven Thompson, dan Waller
Curated by Nikita Vishnevskiy
UNSEEN HAND is a group exhibition that brings together fifteen artists who employ various mediums and processes to question technology and expand upon its conventional definition. The artists exhibited assert their practice as an encounter with a technological event, whether by disrupting the technical order, poetizing methods of industrial production, or inciting sensuality by means of devices typically associated with disconnection. By presenting these instances, the exhibition warns us of the danger in comprehending technology merely through scientific merits.
***
Knockdown Center's exhibitions are selected through a competitive open call for proposals. Through a multi-round process, exhibition proposals are reviewed by Knockdown Center's Curatorial Advisory Board and selected based on quality, distinctiveness, and response to Knockdown Center's unique site and context within an ecosystem of live events.
Founded in 2015, the Knockdown Center's Curatorial Advisory Board is currently comprised of seven sitting arts professionals with diverse but overlapping interests and fields of expertise. The Curatorial Advisory Board meets bi-annually to provide critical feedback on a wide range of proposals as well as contributing to discussions about larger programmatic goals. To learn more about proposing an exhibition or short-term project please visit our Proposals Page.