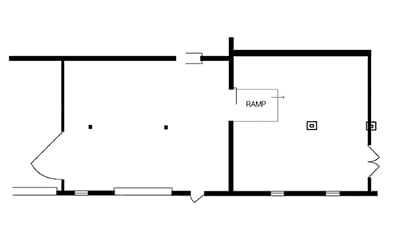 ARTISTS
Valery Jung Estabrook, Tiffany Jaeyeon Shin, So-Rim Lee
Join Knockdown Center and BOMB Magazine for an evening celebrating Tiffany Jaeyeon Shin's exhibition Universal Skin Salvation — the artist's first large-scale solo exhibition featuring a custom line of K-beauty products and a fully immersive sauna. In the spirit of BOMB's interviews, Knockdown Center and BOMB host a conversation with artists Valery Jung Estabrook, Tiffany Jaeyeon Shin and scholar So-Rim Lee to discuss their respective practices, intersecting areas of research, and topics prompted by the works in the exhibition such as cultural possession, concepts of beauty and the cosmetic industry, and technology and management of the self.
Reception to follow in Knockdown Center's bar, the Ready Room.
Tiffany Jaeyeon Shin explores the porousness of bodily boundaries and the ceaseless movement of living processes, like fermentation that echo the history of colonialism. Shin is interested in entangling the history of conquest and the literal digestion of material – herbs, medicine, and food – into a new system of relations that emerge from a complicated history of entanglement. Shin has exhibited at SPRING/BREAK, New York, NY (2018), Disclaimer Gallery, Brooklyn, NY (2018), AC Institute, New York, NY (2017), Abrons Arts Center, New York, NY (2017), Miranda Kuo Gallery, New York, NY (2017), and many others. Forthcoming shows include Phantom Limb at Cody Dock, London, England and Ghost in the Ghost at Tiger Strikes Asteroid, Brooklyn, NY. Shin lives and works in Brooklyn, New York.
Valery Jung Estabrook was born in Plantation, Florida, and grew up on an organic Asian pear farm in rural southwestern Virginia. She holds an MFA in Painting from Brooklyn College and a BA in Visual Art from Brown University. Her work has been exhibited internationally, including New York, Los Angeles, Lagos, Bilbao, and Melbourne. In 2018 she received the Gold AHL-T&W Foundation Contemporary Visual Art Award, an annual award recognizing artists of Korean heritage in the United States. She currently resides in New Mexico.
So-Rim Lee is the 2018-19 Center for Korean Research-Academy of Korean Studies Postdoctoral Fellow at Columbia University. Lee researches on contemporary popular culture's complex embodiments of neoliberalism through performance studies and visual culture, with a focus on South Korea. Lee's doctoral dissertation, "Performing the Self: Cosmetic Surgery and the Political Economy of Beauty in Korea," weds historiography, cultural studies, media studies, and performance analysis to construe cosmetic surgery as a mode of performing one's subjectivity in contemporary Korea. Lee has previously written for New Theatre Quarterly, Performance Research, and Theatre Survey, and is a recipient of the Ric Weiland Humanities and Sciences Fellowship, the Andrew W. Mellon Foundation Dissertation Fellowship, and the Charlene Porras Graduate Scholar Award from the El Centro Chicano y Latino at Stanford University.
About the exhibition
On view November 10 – December 16, 2018
Tiffany Jaeyeon Shin: Universal Skin Salvation features a custom line of K-beauty products and a fully immersive sauna alongside new video, photo, and collage works. Visitors are invited to apply the beauty products and enter the sauna installation, absorbing small amounts of home-brewed lactic acid. For Shin, the active bacterial agent acts as a stand-in for bodily rehabilitation from the Korean War, and as an extension of the Korean "flesh" enlivened by biological matter.