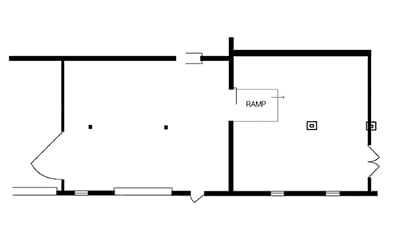 Treatment: The Plan for Rain is a project by Nicholas O'Brien that rethinks the NYC Department of Environmental Protection's (DEP) stormwater collection program by focusing on soil biodiversity, transparency, maintenance, and its impact on citizens. Through a series of animations and sculptures, artist Nicholas O'Brien questions how the DEP's plan employs System Engineering principles that often ignore the human element in undertaking large-scale urban infrastructure projects.
The animations in the exhibition render components from the stormwater collection systems, and are overlaid with segments of audio from interviews with various experts as well as DEP officials. The exhibition attempts to shed light on the often opaque decision making that occurs when trying to reshape the city into a more environmentally conscientious place.
Knockdown Center resides within the floodplains around Newtown Creek. Related public programs will offer opportunities for communities directly impacted by DEP's stormwater collection plan to gain extensive information and engage in dialogue.
Programs:
Sunday, May 20, 3:00pm: Water Toxicity Workshop
Thursday, May 31, 7:00pm: Conversation with Nicholas O'Brien and Margot Walker
Thursday, June 7, 7:00pm: Panel Discussion with architect and urbanist Jillian Crandall, artist Ellie Irons, and engineer Paul Grogan. Moderated by Nicholas O'Brien.
Nicholas O'Brien is a net-based artist, curator, and writer researching Games, Digital Art, and Network Culture. His work has exhibited in Mexico City, Berlin, London, Dublin, Italy, Prague, as well as throughout the US. As a past recipient of a Turbulence.org Commission funded by the NEA his work has also appeared or featured in ARTINFO, The Brooklyn Rail, DIS magazine, Frieze d/e, The Atlantic, and The New York Times. He currently lives in Brooklyn and is Assistant Professor in 3D Design and Game Development at Stevens Institute of Technology.
Knockdown Center and Nicholas O'Brien thank Eyebeam for generously loaning monitors for this installation. By providing generous support to artists for research, production and education, Eyebeam makes ideas real. They were happy to lend Nicholas four flat screens to facilitate the animations for the exhibition. Eyebeam is a nonprofit studio for collaborative experiments with technology toward a more imaginative and just world.
Treatment (Prologue): Nicholas O'Brien from Undervolt & Co. on Vimeo.
***
Knockdown Center's exhibitions are selected through a competitive open call for proposals. Through a multi-round process, exhibition proposals are reviewed by Knockdown Center's Curatorial Advisory Board and selected based on quality, distinctiveness, and response to Knockdown Center's unique site and context within an ecosystem of live events.
Founded in 2015, the Knockdown Center's Curatorial Advisory Board is currently comprised of seven sitting arts professionals with diverse but overlapping interests and fields of expertise. The Curatorial Advisory Board meets bi-annually to provide critical feedback on a wide range of proposals as well as contributing to discussions about larger programmatic goals. To learn more about proposing an exhibition or short-term project please visit our Proposals Page.