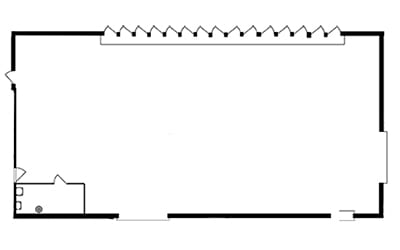 Knockdown Center hosts the Trans is Magick! Collective to present the first annual Trans Day of Joy! Join us for a day celebrating and claiming Trans liberation through celebration.
The 1st annual Trans Day of Joy #TDoJ is a statement is meant to be both celebratory and political. The larger gay/LGB/queer movement has pushed Trans people to the margins, as they exchange Trans liberation for assimilation into the cis hetero capitalist world. During Pride week we see a flurry of lesbian,
gay, and bisexual representation in the movement and throughout the Pride party scene, at the cost of Trans visibility. Trans bodies are erased, ignored & commodified. On June 23rd, we will show up to celebrate our survival as resistance, as community, as JOY.
Our Trans ancestors, most famously Sylvia Rivera & Marsha P. Johnson, were disowned from the gay movement because they were considered to hinder the progress of gay rights. For centuries, Trans people have dealt with the aftermath of being left behind from our LGB kin. The Trans is Magick! Art Collective centers Trans joy as a path to liberation. We believe there can be no pride unless Trans people of all races, genders, and bodies are celebrated. So bring your friends, your lovers, & [chosen] family to Knockdown Center to claim space in community!
#TransDayofJoy #TDOJ #TDOJ2018
Schedule:
2pm-8pm: Trans PoC Vendors Market
2pm – 5pm: Workshops lead by Trans folx
5pm sharp: Trans for Trans Speed Dating
6pm-8pm: Live Performances by Trans folx
Admission is income based, sliding scale: $10-$40
If you make:…….Please Pay:
$20k or less…….$5-$10
$20K-$30K……….$10-$15
$30-$40K………..$15-$25
$40K or above……$25-40
No one trans person or ally will be refused admission due to lack of $$$. Though this event is sliding scale, we ask that if you have the funds to spend $$ do it! Ticket sales from this event literally fund Trans survival! Every Trans is Magick! workshop teacher, performer and organizer is compensated based upon ticket sales and donations.
All genders are welcomed (cis-gender allies included!) but we ask you be mindful of using gender specific language at our event. Please do not assume anyone's gender and be mindful of the space you take up.
Trans folx, bring your friends, your lovers, & [chosen] family!
We'll have a community altar to honor our Trans ancestors through time. If you feel called, please bring items to add to our the altar. Items such as food offerings, flowers, drink, candles, crystals, photos, keepsakes can be placed on the altar.
#TDOJ #TDOJ2018
Accessibility:
KNOCKDOWN CENTER IS FULLY WHEELCHAIR ACCESSIBLE. If you have questions or specific
accessibility needs, please email us at TransisMagick@gmail.com
Age Restrictions:
The event is all ages before 9:00pm and 21+ after. Visitors may be asked to present valid government issued photo identification.
How to get to Knockdown Center:
Knockdown Center
52-19 Flushing Ave
Queens, NY 11378
Subway: L Train to Jefferson, 15 min walk from there
Bus: B57, B38, Q59, Q54
Join our Free Carpool Sign-Up:
https://www.groupcarpool.com/t/x20ome