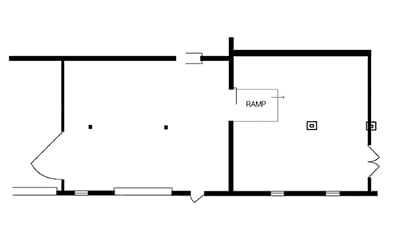 Knockdown Center is pleased to present Skagit, a mural by artist Sarah Heinemann, and the inaugural work in FiftyTwo Ft., a series of long-term commissions of wall-based artworks in Knockdown Center's East Corridor.
Heinemann's paintings are a meditation on the intuitive connections between nature, color, and space. Conceived as a response to time spent traveling through the Pacific Northwest, Skagit's delicate abstract planes give form to an emotional experience of the natural world. Regarded as a whole, the structure of the painting depicts a landscape, however each individual section may be considered for its unique luminous surface.
Sarah Heinemann is painter based in Brooklyn. Originally from from Chicago, IL, Heinemann attended Smith College in Northampton, MA., and holds a BFA in painting from The School of the Art Institute of Chicago. She received the Odyssey Travel Grant from SAIC which funded a three month trip to Vietnam, Nepal, and Thailand. Sarah recently co-organized and participated in Behind the Great Green Glass at The RE Institute in Millerton, NY. She has shown with Sardine Gallery and Jason Rulnick Gallery in New York, Marwen Alumni Gallery and Open End Space in Chicago, as well as Mass MoCA's 28 Holden St. Gallery in North Adams, MA. Besides maintaining her own studio practice, Sarah has worked for the studio of Sol LeWitt since 2000, realizing LeWitt wall drawings for museums, galleries, and private collections.