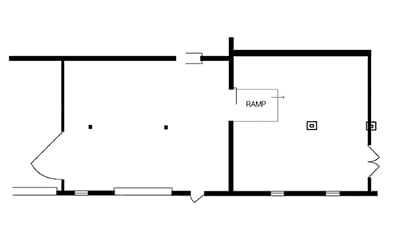 Postponed: Due to rising concerns amid the COVID-19 virus, Knockdown Center will be temporarily closed to the public. It is with a heavy heart that we announce this news, however, we hope that this measure will ensure the safety of our staff and guests. Please check back for updates on rescheduled dates.
Pixelated Petals is an evening organized in conjunction with the exhibition Dakota Gearhart: The Sextant of the Rose. Through lecture, video, and performance, Eva Davidova, Mo Kong, and Cori Olinghouse will unravel some of the conceptual threads within Gearhart's exhibition like environmental collapse, digital and material promiscuity, and embodied absurdity.
Interdisciplinary artist Eva Davidova will give a short presentation of her VR and animation works, which use interactivity and mythological characters to address ecological disaster, cruelty and manipulation of information. Artist Mo Kong is propelled by scientific research and often addresses environmental collapse. Kong will present See Sun, and Think the Shadow (2017), a video of accumulated imagery of sinkholes and earthly openings. Embodying a humor-driven and queer performance practice, artist Cori Olinghouse performs a selection of new and returning characters in dialogue with Gearhart's installation.
About the exhibition
Dakota Gearhart: The Sextant of the Rose investigates beauty as economic capital through the ubiquitous figure of the rose, speculating on whether the rose may have a hidden evolutionary agenda of its own. This exhibition, the artist's first solo presentation in New York, features a new series of video-sculptures that incorporate psychedelic videos as well as living and dying roses to create an immersive world that viewers can become submerged within.
About the presenters
Eva Davidova is a Spanish/Bulgarian interdisciplinary artist with focus on new media(s), information, and their socio-political implications. The issues of her work—behavior, cruelty, ecological disaster and manipulation of information emerge as paradoxes rather than assumptions, in an almost fairy-tale fashion. Davidova has exhibited at the Bronx Museum, the Everson Museum the Albright Knox Museum, MACBA Barcelona, CAAC Sevilla, Instituto Cervantes Sofia, La Regenta and Circulo de Bellas Artes Madrid among others.
Mo Kong is a multidisciplinary artist, researcher.They have been the subject of solo exhibition at CUE Art Foundation, Artericambi Gallery, Gertrude Gallery and Chashama. Their work has been included in Queens Museum, RISD Museum,SFMOMA, Minnesota Street Project, Spring Break, ARTISSIMA, Make Room Gallery and Rubber Factory Gallery. They also received fellowship/residency from Skowhegan School of Painting & Sculpture, Triangle art association,Mass Moca Studio,Vermont Studio Center, Gibney Performance Center and AAI. Their work mentioned in Hyperallergic, Artforum, Cultured magazine, Artnews, CoBo Social, Wall street International, SFMoMA Public Knowledge.
Cori Olinghouse is an interdisciplinary artist, archivist, and curator, who received her MA in Performance Curation from Wesleyan University. Olinghouse performed for the Trisha Brown Dance Company for several years and participated in a dancing dialogue with theatrical clown and actor Bill Irwin, researching a variety of improvisation forms that explore shape-shifting and transformation. Her performance works have been commissioned by BRIC Arts Media, Brooklyn Museum of Art, Danspace Project, New York Live Arts, Lower Manhattan Cultural Council, and Movement Research. Last year, she collaborated with video artist Charles Atlas on a moving image installation of Trisha Brown's archival materials for "Judson Dance Theater: The Work is Never Done," at the Museum of Modern Art. In 2017 she founded The Portal, a curatorial platform dedicated to reimagining the archiving and contextualizing of performance practices and embodied histories in motion. She serves as visiting faculty at the Center for Curatorial Studies at Bard College.