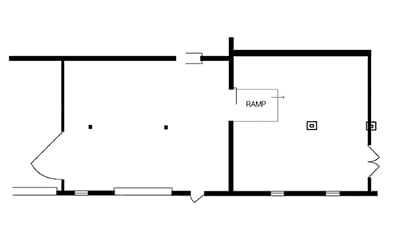 Knockdown Center is pleased to present Who Is Watching You More Than You Are Watching You, a mural by Macon Reed as a part of Knockdown Center's FiftyTwo Ft. series of commissioned wall-based artworks in the East Corridor.
Macon Reed works across sculpture, installation, video, painting, and participatory projects to address social and political issues using a bright palette and storybook-like imagery in order to disarm viewers while depicting disturbing moments in history like the medieval torture of women or the troubling disappearance of dyke bars.
Who Is Watching You More Than You Are Watching You depicts a series of caves surrounded by brightly colored stalactite and stalagmite forms and plants. Eyes stare outward from deep inside each cave, forming constellation patterns. Surrounded by living matter, the mysterious interior space of the caves connects to an even more expansive and imperceivable space of the universe. With this gesture, Reed combines the threat of extinction of popularly known species of plants and animals to the extinction of a more intangible nature: the cognitive space of the imaginary.
For Reed, the decline of the imaginary causes minds to become more susceptible to coercion by tyrannical forces of power. The parallel threat of extinction to both species and imaginative thought is symptomatic of dire global ecological and political conditions. In constructing this fictional landscape, Reed aims to foster spaces for the collective imagination.
Macon Reed is an artist working in sculpture, installation, video, radio documentary, painting, and participatory projects. Her work has shown at venues including PULSE NYC Special Projects, BRIC Media Arts, ABC No Rio, The Kitchen, Art F City FAGallery, Chicago Cultural Center, Mana Contemporary, Roots & Culture, Museum of Contemporary Art Chicago, ICA Baltimore, and Athens Museum of Queer Arts in Greece. Reed completed her MFA at the University of Illinois at Chicago as a University Fellow in 2013 and received her BFA from Virginia Commonwealth University in 2007. Additionally she studied Radio Documentary at the Salt Institute for Documentary Studies and Physical Theater at the Dah International School in Belgrade. Most recently Reed was an artist in residence at the Skowhegan School of Painting and Sculpture and a Research Fellow at Eyebeam Center for Art+Technology.