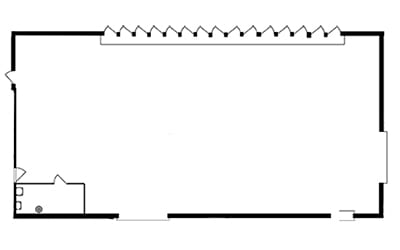 ARTISTS
Kuldeep Singh with Jeffrey Grunthaner, Harsh Shah, and Russell Cole
Kuldeep Singh: THROUGH THE KĀLI-EROS, an evening of immersive performance.
Kali, the often misunderstood goddess of time, terror, destruction and protection is visualized here as a system of performative and sonic tropes equated to Eros.
Weaving together visual art elements with Indian classical dance gestures and theatre, multidisciplinary artist Kuldeep Singh and his collaborators present THROUGH THE KĀLI-EROS, an installation based performance project where meanings and boundaries are blurred through pathos and eros.
Against a hypnotic score drawn from Hindustani classical music layered with tones of prolonged echoed narrations in gibberish and live instrumental music, the work interlaces a myriad of haunting gestures and fluctuating movements as acts, interspersed with a film projected on suspended painted surfaces. These performance acts are fragmented in nature and unfold on cracked mud and dirt ground within Knockdown Centers large industrial space. Reflecting on a chapter in the 12th century Sanskrit tome Manasollasà that addresses the nature of dance, the work attends to realities of the post-colonial world through a relationship between abstraction and representation.
THROUGH THE KĀLI-EROS presents the viewer with a concocted world of its own, where hybrid meanings lead to an inner cleansing mechanism.
Collaborators include Jeffrey Grunthaner on guitar, Harsh Shah on sitar and vocals, and Russell Cole in movement.
About the artists
Kuldeep Singh is a multi-disciplinary artist with a compound artistic practice, comprising a system of non-linear narratives in visual art and multi-media performance. Through inventing situations in theatrical installations and hybrid myths, he surveys hiatuses in post-colonial histories. With his intensive, decade long training in the Indian classical dance form of Odissi (with critically acclaimed dancer Madhavi Mudgal, in New Delhi) he deconstructs components in movement and acting, sound/percussion mnemonics and spatial arrangements – all as re-arranged fragments in layers, engaging in body politics and social anthropology. The content transpires from eclectic stories across timelines, classic Sanskrit texts, and is layered to contemporary human situations – re emphasizing contemporary relevances.
Kuldeep is the recipient of some of the prestigious art residencies including: the Skowhegan School of Painting and Sculpture, ME (2014), Yaddo, NY (2015) and Bemis Center for Contemporary Art, NE (2016); and has recently been artist in residence at Residency Unlimited, Brooklyn (2018) and at HH Art Spaces, Goa (2018) – on an award from Inlaks Foundation, Mumbai. He recently has been awarded the highly competitive New York Foundation for the Arts Fellowship (2018), in interdisciplinary arts category. Kuldeep holds the National Freedom of Expression Award, Mumbai (2009, Infinity Films). His selected solo performances include at the Kolkata International Performance Festival (2014), Yaddo (2015) and Rapid Pulse International Performance Festival in Chicago (2016), La Mama Theater (2016), and most recently at Asia Society, NYC (2018) to name a few. His selected lectures & demonstrations include at the Kiran Nadar Museum of Art – New Delhi, Queens Museum – NYC, Delhi University, University College London, University of Iowa, University of Nebraska-Omaha and Hunter College, NYC.
Russell Cole is a New York City-based interdisciplinary artist. His works are often collaborative and improvisatory and explore the intersection of poetry, music, circus and dance. He holds an MFA in poetry from Brooklyn College and has performed with The Commons Choir,Tori Lawrence & amp; Co., and recently at Triskelion's Never Before, Never Again festival with Luther Bangert. He is co-founder of the art/literature magazine 叵CLIP.
Jeffrey Grunthaner is a writer, artist, musician, and curator based in Brooklyn. Their articles, reviews, poems, and essays have appeared via Drag City Books, BOMB, American Art Catalogues, The Brooklyn Rail, artnet News, Hyperallergic, and other venues. Recent curatorial projects include the reading and discussion series Conversations in Contemporary Poetics at Hauser & Wirth, New York City, and Daniel Turner; Drawings and Sculpture, at Spoonbill Studio, Brooklyn.
Harsh Shah is a pursuing a full fledge career as a Construction Manager in NYC. But his passion and yearning for instrumental sitar and Indian classical vocal music has pulled him for diversified collaborating experience with many other instrumentalists – including Indian flute, Violin and Veena and dancers. He is in training, past 4 years under the guidance of Indrojit Roy Chowdhury – one of the most talented young exponents of Rampur Senia Gharana. And also learning Hindustani vocal music. His recent most collaboration was at Queens Museum, NY.
About Residency Unlimited (RU)
Residency Unlimited (RU) supports the creative process and promotes exchange through its unique residency program and year-round public programs. Moving beyond the traditional studio model, RU forges strategic partnerships with collaborating institutions to offer flexible and customized residencies designed to meet the individual goals, needs and visions of local and international artists and curators. RU is particularly committed to promoting multidisciplinary practices and building lasting connections between residents and the broader arts community.
Photos courtesy of Zhiyuan Yang