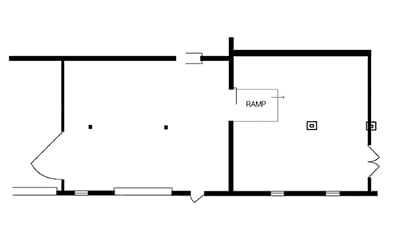 ARTISTS
Isaac Pool
Organized by
Samuel Draxler
40 Volume Performers: Alisa Besher, Zachary Delamater, Scears Lee, Martha Moszczynski. Alejandra Venancio, Isaac Pool
Knockdown Center presents 40 Volume, Isaac Pool's first solo exhibition in New York, an installation and sitcom-length play starring three sock-encrusted vases and a head of fennel. In 40 Volume's performances, the vessels depart from their place in the adjacent gallery and chat together through filters of personal mythology and melodramatic pop lyrics to find sisterhood.
The exhibition includes paintings and sculptures: each character from the play holds a space marked by surfaces of dollar store glitz and janky, poetic objects. The paintings are assemblages of sculptural elements, a mass of accumulated and arranged material that is anchored to the wall; whereas the sculptures, with their humorous constructions, are suggestions for pertinent lifestyle choices. As a study in aspirational whiteness and its discontents, 40 Volume matches its protagonists' delusions with a tenderness as charming as it is suspect.
Exhibition Events
January 13, 7:00pm
Opening Performance and Reception
February 24, 7:00pm
Closing Performance and Reception
40 Volume's play is performed by Alisa Besher, Zachary Delamater, Scears Lee, Martha Moszczynski, Alejandra Venancio, and Isaac Pool. A version of 40 Volume was originally published in Volume 3 of Haunt Journal (2016). Isaac Pool: 40 Volume was organized by Samuel Draxler.
Isaac Pool is an artist who makes performances, photographs, sculptures, videos, and texts. Pool images sites of embodiment and provisional glamours; he has held positions as a character actress, pet empath, and object choreographer. As a teenager, Isaac performed in Detroit nightclubs using video projections, trash costuming, and cheap audio software under the name RENTAL. Beginning in 2008, Pool performed as feminist anti-hero and celebutante Sally Johnson and retired the character with the 2013 film A Alternatives, featuring a wardrobe by BCALLA and soundtrack by Samuel Consiglio and Colin Self. Recent performances include The Knockdown Center, Judson Memorial Church, and La MaMa (all NYC). Recent exhibitions include La MaMa Galleria, NYC; Green Gallery, Yale, CT; and Mindscape Universe, Berlin. His first full length book of poems in print, Light Stain, is available from What Pipeline, Detroit. Alien She, an ebook dedicated to Mark Aguhar, is available from Klaus eBooks. Pool holds an MFA in Fine Art from Parsons the New School for Design (2013) and a BFA in Interdisciplinary Electronic Art from Wayne State University (2010).
Recent Press for 40 Volume:
"The characters, voiced live by actors, include a robust head of fennel—the diva—and three vases composed of tube socks suggestively encrusted with hair gel. The objects' quipping exchanges, punctuated by a cappella renditions of songs by pop stars such as Mariah Carey and Billy Idol, reveal a complex but affectionate homage to femme fabulousness, shot through with class anxieties." – Wendy Vogel for Artforum
"I think about making the objects as elegant as they can be, and it's interesting because people read an irony in the materials as if I am critiquing them as trashy elements of consumer culture, and I always have to be like "No! These are objects of love." These are things that I appreciate, and that is part of the world that I came from." – Isaac Pool interviewed by Jeanine Oleson for BOMB
"Multimedia artist, character actress, and self-proclaimed "object choreographer" Isaac Pool combines unlikely found objects and materials — pickles, lipgloss, and foil are of the lot — for his vaguely glamorous sculptural oddities." – Julia Gray for Papermag
***
Knockdown Center's exhibitions are selected through a competitive open call for proposals. Through a multi-round process, exhibition proposals are reviewed by Knockdown Center's Curatorial Advisory Board and selected based on quality, distinctiveness, and response to Knockdown Center's unique site and context within an ecosystem of live events.
Founded in 2015, the Knockdown Center's Curatorial Advisory Board is currently comprised of seven sitting arts professionals with diverse but overlapping interests and fields of expertise. The Curatorial Advisory Board meets bi-annually to provide critical feedback on a wide range of proposals as well as contributing to discussions about larger programmatic goals. To learn more about proposing an exhibition or short-term project please visit our Proposals Page.