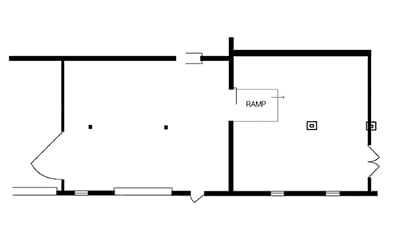 ARTISTS
Alyssa Miserendino
großer Lauscher ("big Eavesdropper" in German) is a spatial sound installation created by interdisciplinary artist Alyssa Miserendino. The piece was recorded in the main radar dome at the Field Station Berlin, a listening station built during the Cold War by the US National Security Agency (NSA). Exhibited in the darkness, the piece is comprised of five narrators from five different continents reciting the story of Echo from Ovid's Metamorphoses, while the protracted echos created by the architecture allow visitors to visualize the space of the Field Station.
Exhibition Events
July 22, 2017, 6:00-9:00pm
Opening reception with artist talk
August 27, 2017, 6:00 -8:00pm
Closing reception
This project is made possible by an Ella Fountain Pratt Emerging Artists Grant from the Durham Arts Council with support from the North Carolina Arts Council, a division of the Department of Natural & Cultural Resources + a Foundation for Contemporary Arts Emergency Grant. This project is sponsored by Arup and Genelec.
About Arup
In order to curate an experience driven solely by sound, the unique acoustic signature of the main radar dome at the Field Station Berlin called for a playful interpretation and immersive implementation through sound design. The performance was recorded in a multichannel audio format in Berlin by Alyssa Miserendino with technical support from Arup. In close collaboration with the artist the audio was then processed, spatialized, and rendered into the final piece by Arup acoustic designers using the proprietary 3D audio technology of the Arup SoundLab®. Arup concurrently designed a spatial sound system to render the piece and provided acoustic consulting expertise for the exhibition space, optimizing the patron aural experience. http://www.arup.com
Executive producer: Ryan Biziorek, Arup
Experience design, audiovisual systems design, sound design, programming and production: Léonard Roussel, Arup
About Genelec
Genelec is a sponsor of the project großer Lauscher, providing studio monitors and mounting accessories for the installation at Knockdown Center. Genelec's design philosophy is based on sustainable development and environmental values, using industrial design to serve their products' acoustical performance. Genelec aims to deliver performance-driven, tonally neutral speaker and subwoofer systems for audio professionals and enthusiasts. https://www.genelec.com/
About the artist
Alyssa Miserendino is an interdisciplinary artist & educator, working in photography, sculpture, video, sound, performance & installation. She creates artwork driven by her interest in paradox & connection. Since her undergraduate fellowship award, from the School of the Art Institute of Chicago, her work has since been supported by organizations such as the Richard H. Driehaus Foundation and ARUP. She completed her Masters in Fine Art at the University of North Carolina at Chapel Hill, and is currently teaching at The Center for Documentary Studies at Duke University.
Driven by synchronicity, Alyssa meets collaborative artists and strangers on planes, through daily routine encounters, & through the stories we share with one another. Her eye is informed by the study of architecture, traveling to France to study at Vitra's Boisbuchet & to Santa Barbara, California to study with a residential green architect. Her childhood study of music fosters a rhythm of comfort while working with collaborative teams, during project productions. In addition, she worked as an interior designer & commercial photographer for over a decade, while pursuing an artistic career late at night. This experience and her 5th grade paper on black holes have informed her artistic practice to date.
***
Knockdown Center's exhibitions are selected through a competitive open call for proposals. Through a multi-round process, exhibition proposals are reviewed by Knockdown Center's Curatorial Advisory Board and selected based on quality, distinctiveness, and response to Knockdown Center's unique site and context within an ecosystem of live events.
Founded in 2015, the Knockdown Center's Curatorial Advisory Board is currently comprised of seven sitting arts professionals with diverse but overlapping interests and fields of expertise. The Curatorial Advisory Board meets bi-annually to provide critical feedback on a wide range of proposals as well as contributing to discussions about larger programmatic goals. To learn more about proposing an exhibition or short-term project please visit our Proposals Page.