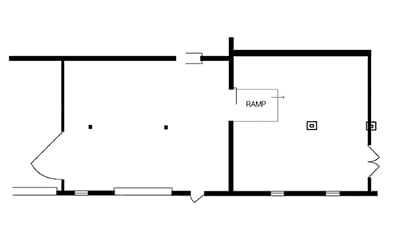 Knockdown Center is pleased to present a new work, titled Scores for a Corridor, by Ander Mikalson as a part of the FiftyTwo Ft. series of commissioned wall-based artworks in the East Corridor.
Mikalson's work often uses imaginative scores to incite performance, collaboration, and exploration as a way to discover new forms of knowledge. This will be the artist's largest- scale visual work to date. For FiftyTwo Ft., Mikalson engages deeply and directly with Knockdown Center's East Corridor space in a large-text based collection of scores that imagine the space in a myriad ways: alternately as a hallway, runway, tunnel, bridge, wormhole, salad bar, road, tightrope, aisle, plank, horizon, and more. Arranged in bands, the text pulls the viewer along the length of the hallway and around the corner as they read, creating a formal relationship between the architecture of the space and the wall drawing, propelled by a movement-driven encounter. The actions described in the text drawings may either be left as potential or performed with invited guests and audience members at some point while the work is on view. Some scores, like "A WOMAN RUSHES DOWN A CORRIDOR," describe activities that routinely take place in the space, creating the possibility for the piece to be unintentionally performed by visitors to the space or activated by the internal movements of Knockdown Center staff. While the text is legible as language when viewed close up, from a distance it shifts into an abstracted graphic pattern, placing Scores for a Corridor in the nexus of a formal gesture, conceptual artwork, poem, and score-based performance.
About the Artist
Ander Mikalson is a Brooklyn-based artist playing across performance, sound, installation and drawing. Select solo exhibitions and performances include Art in General (New York, NY), The Kitchen (New York, NY), The High Line (New York, NY), Storm King Art Center (New Windsor, NY), The Art, Design & Architecture Museum (Santa Barbara, CA), Kate Werble Gallery (New York, NY), Queens Museum (Queens, NY), Temple Contemporary (Philadelphia, PA), Institute of Contemporary Art (Portland, ME) and Tensta Konsthall (Stockholm, Sweden). Her projects have been supported by the Foundation for Contemporary Arts Emergency Grant (2016), the Art Matters Foundation Grant (2013), College Art Association Professional-Development Fellowship in the Visual Arts (2012) and the Virginia Museum of Fine Arts Graduate Fellowship (2011). She has been an artist-in-residence at the Skowhegan School of Painting and Sculpture (2012), Queens Museum (2015-18), Robert Rauschenberg Foundation (2017), Lower Manhattan Cultural Council Process Space (2016) and Banff Centre for Arts and Creativity (2018). She holds
an MFA from Virginia Commonwealth University and a BA from the College of Creative Studies at the University of California Santa Barbara.
She is currently a Smithsonian Artist Research Fellow in Washington, DC and an Artist-in-Residence at the Lower Manhattan Cultural Council Arts Center in New York.