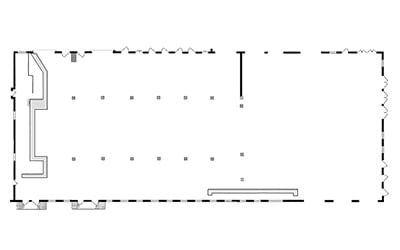 ARTISTS
NHLK / MEMBRANES
Michael Vorfeld
ChiKa
Benton C Bainbridge
James Yuxi Cao
MSHR (Birch Cooper & Brenna Murphy)
Dafna Naphtali
Eric Drasin
Jonas Bers
Matthew Ostrowski
Daniel Neumann (spatialist)
Hans Tammen (concept, composing, conducting)
"Crossing the Lagrangian Point" is a large multi-movement piece written by Hans Tammen for 10 light & sound performers, a spatialist, and a conductor. A large collection of lightbulbs, LED structures and fluorescent lights fight and clash with bizarre visuals projected onto objects, fabrics, ceilings and walls. Sounds are generated with ear-scorching intensity directly from the visuals or from a mad combination of audio and video synth modules, while the "spatialist" throws them around in an 8-channel sound system like a violently moving fluid. It is a controlled chaos of loud, visceral blast of colors, flashes and polyrhythmic machinations.
With Michael Vorfeld, ChiKa, Benton C Bainbridge, James Yuxi Cao, MSHR (Birch Cooper & Brenna Murphy), Dafna Naphtali, Eric Drasin, Jonas Bers, Matthew Ostrowski, Daniel Neumann (spatialist) and Hans Tammen (concept, composing, conducting).
Hans Tammen likes to set sounds in motion, and then sitting back to watch the movements unfold. Using textures, timbre and dynamics as primary elements, his music is continuously shifting, with different layers floating into the foreground while others disappear. The Dark Circuits Orchestra is a large ensemble devoted to contemporary electronic instrument practices such as circuit bending, no-input mixers, laptops, turntablism and analogue synth, including visuals. Dark Circuits concepts and workshops have been presented in the US, Mexico, Ukraine, Russia, and all over Europe.
Hans Tammen: http://tammen.org
Michael Vorfeld: http://www.vorfeld.org
ChiKa: http://www.imagima.com
Benton C Bainbridge: http://www.bentoncbainbridge.com
James Yuxi Cao: https://caoyuxi.com
MSHR (Birch Cooper & Brenna Murphy): http://mshr.info/index.html
Dafna Naphtali: http://dafna.info
Eric Drasin: http://www.ericbarrydrasin.com
Jonas Bers: https://jonasbers.com
Matthew Ostrowski: http://www.ostrowski.info
Daniel Neuman & CT-SWaM: https://ctswam.org
The event is a co-production between Hans Tammen and CT-SWaM, and was commissioned by Harvestworks with funds from the New York State Council on the Arts with the support of Governor Andrew Cuomo and the New York State Legislature.
With opening performance by NHLK / MEMBRANES (7pm)
NHLK is a duo from Switzerland that explores the boundaries where music and language overlap. They are using hybrid instruments – constructed from drum-skins and electronic components – as devices to turn written texts into pulses of light and percussive sound. As each machine translation emerges, the network of instruments starts to share the texts, transforming written material into aesthetic, visual and sonic patterns, for the performers to further interact with. Extrapolating from the example of the African talking drum, Membranes builds up an altogether new kind of tone language, constantly shifting and adapting itself before the viewer and performers alike.