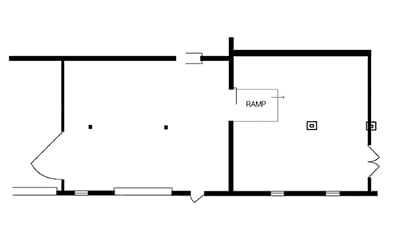 Visitor Information
By appointment only October 2 – 23
Fridays noon – 4pm
Email alexis@knockdowncenter.com to schedule an appointment
We prioritize the safety of all visitors and staff. Please review the visitor guidelines below before making an appointment.
Dakota Gearhart: The Sextant of the Rose investigates beauty as economic capital through the ubiquitous figure of the rose, speculating on whether the rose may have a hidden evolutionary agenda of its own. This exhibition, the artist's first solo presentation in New York, features a new series of video-sculptures that incorporate psychedelic videos as well as living and dying roses to create an immersive world that viewers can become submerged within.
Informed by the artist's day job as a florist, The Sextant of the Rose conjures an otherworldly setting where bouquets and videos reside. A suite of sculptures contain collage-like video animations of rose imagery that spins, flickers, and accumulates, sometimes integrating sculptural elements or the artist's body modified by digital elements and effects. In a central video, Gearhart communicates with the rare and costly Juliet rose, who reveals her strategy of using sensuality to co-opt human desire as a way to navigate her own species' evolution. Over hundreds of years, humans have cultivated roses to have more desirable patterns, better scents, more saturated colors, and even a more graceful death. By asking the rose what it experiences from its revered cultural position, Gearhart seeks to further understand how roses are using human desire to evolve and procreate themselves, and to what extent we are entranced in to performing their desires.
About Dakota Gearhart
Dakota Gearhart is a multidisciplinary artist who examines the environment and how it is perceived through technology and mythology. Her work has been exhibited at The Bronx Museum of Art, Bronx, NY; Tacoma Art Museum, Tacoma, WA; Disjecta Contemporary Art Center, Portland, OR; Equity Gallery, New York, NY; On The Ground Floor, Los Angeles, CA; Horse Hospital, London, UK; Griessmuehle, Berlin, GR; Lab'Attoir, Thessaloniki, Greece; and Taiyuan University, Taiyuan, China. She has been awarded the Puffin Foundation Grant, Artist Trust GAP Grant, BRIC Digital Media Fellowship, and a National Endowments for the Arts Fellowship through a partnership with Residency Unlimited. Residencies completed include the Queens Museum Studio Program, NY; NARS Foundation, NY; Studios at MASS MoCa, MA; Wassiac Project, NY; Residency Unlimited, NY; and The Bronx Museum AIM Program, NY. Currently, she is a video educator with Pioneer Works and Educational Video Center, both in Brooklyn, NY.
Organized by Alexis Wilkinson, Knockdown Center Director of Exhibitions and Live Art.
Safety Guidelines for Visitors:
– If you are feeling unwell, exhibiting any symptoms of Covid-19, or have had contact with a COVID-19 patient in the last 14 days, please stay home and seek care.
– Visitors are required to wear face masks at all times while in the building.
– A maximum of four visitors will be allowed into the gallery at a time.
– Visitors are allowed in the galleries for 45 minutes of viewing time.
– Visitors are required to practice physical distancing in the gallery, keeping 6ft between you and other visitors.
– Knockdown Center will provide hand sanitizer for visitors at the entrance.
– We do not condone abusive, threatening, or unsafe behavior, and will remove any visitor who does not comply with safety requirements listed above, or is behaving in an otherwise unsafe manner.
Gallery protocol:
– Staff will wash hands thoroughly upon entering the gallery and wear face masks at all times.
– Staff will regularly disinfect touchable surfaces throughout the gallery.
– Staff will practice physical distancing at all times.