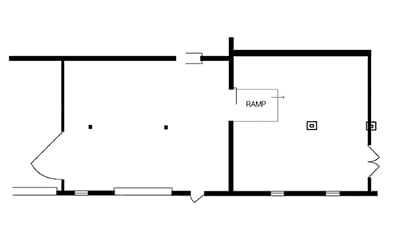 ARTISTS
Mariana Herrera Castaño, Justin Cabrillos and Matt Shalzi
Join us for the opening performances of Cura(Collected), an exhibition on view in Knockdown Center's galleries November 4 – December 17, 2017.
5:00pm – Me eligio with Mariana Herrera Castaño
Mariana Herrera Castaño's performance Me eligio asks audiences to participate in facilitating the translation between Spanish and English, music and spoken language.
6:00pm – as of it with Justin Cabrillos and Matt Shalzi
Justin Cabrillos presents a dance with performer and sculptor Matt Shalzi, examining contemporary manifestations of the sacred through morphing, repetitive movements. An emulsion of religious fervor, hallucinogenic ecstasy, hardcore moshing, and trance, Cabrillos and Shalzi respond to each other's somatic improvisations, superimposing gestures that result in sculptural formations that undulate in between abstract and bodily compositions.
About the Exhibition
Cura(Collected) is an exhibition that accumulates over time in a series of artist interventions that investigate care, empathy, and nurture. Organized by Sessa Englund, Cura(Collected) is a collaborative project by Anjuli Rathod, Eduardo Restrepo Castaño, Oscar Moises Diaz with an accompanying essay by manuel arturo abreu. For this project each artist has brought in collaborators and community for a series of ongoing, cumulative interventions that will take place within an architectural structure inside of the gallery each week from November 4th through December 3rd, and will remain on view in its final state until December 17th, 2017.
In addition to scheduled performances, the collaborating artists will activate the architectural structure in the center of the gallery on a daily basis. As the exhibition accumulates, the material residue and traces of prior interventions will remain in the space alongside a video record of each act.