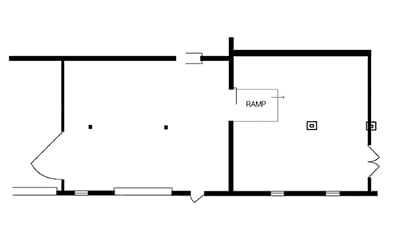 Visitor Information
By appointment only October 2 – 23
Fridays noon – 4pm
Email alexis@knockdowncenter.com to schedule an appointment
We prioritize the safety of all visitors and staff. Please review the visitor guidelines before making an appointment.
Upcoming Event
Thursday October 22, 7pm
[Conclusion and Findings] Readings with K-Ming Chang, Lara Mimosa Montes, Thylias Moss, Arisa White, and Keith Wilson
Catalina Ouyang: it has always been the perfect instrument is a multimedia exhibition of large-scale interactive sculpture, salvaged objects, sound, moving image, and architectural intervention, as a continuation of the artist's ongoing project [Conclusion and Findings] (2017–). In [Conclusion and Findings], Ouyang pollutes the email inboxes of hundreds of strangers and friends with a 2016 legal document that weaponized institutional language to exonerate an act of violence. The recipients are then invited to appropriate, handle, and "translate" the contents of that document back to Ouyang.
The exhibition presents sculptures made over the last two years alongside a new two-channel video installation that comprises Ouyang's reordering of the nearly 40,000 words generated by the contributions to [Conclusion and Findings]. This exhaustive task reflects the artist's initial struggle to make sense of polyphonic data and to comprehend a manuscript designed to create silence. The works in the exhibition, however, ultimately forego that endeavor toward consolidation and instead grow out of a space where language fails. In resisting any overarching material, disciplinary, or tonal vocabulary, it has always been the perfect instrument trades linguistic and taxonomic control for a landscape of rhythm, texture, touch, and communion.
About Catalina Ouyang
Catalina Ouyang's practice spans sculpture, text, installation, performance, video, and participatory projects, among other modalities, exploring the interstices of myth, desire, subjugation, and monstrosity. Ouyang has had solo exhibitions at Rubber Factory (New York, NY), Selena's Mountain fka Selena Gallery (Brooklyn, NY), Make Room (Los Angeles, CA), and fort gondo compound for the arts (St. Louis, MO). Group exhibitions include Helena Anrather (New York, NY), fffriedrich (Frankfurt, Germany), like a little disaster (Polignano a Mare, Italy), Anonymous Gallery (Mexico City, Mexico), projects+gallery (St. Louis, Missouri), No Place (Columbus, Ohio), Field Projects (New York, NY), and Gallery 400 (Chicago, IL). Ouyang has attended residencies at Shandaken: Storm King (New Windsor, NY), the NARS Foundation (Brooklyn, NY), OBRAS (Evoramonte, Portugal), the Atlantic Center for the Arts (New Smyrna Beach, FL), and Palazzo Monti (Brescia, Italy), with a residency upcoming at the Vermont Studio Center. Ouyang holds an MFA from Yale University.
Funding for Catalina Ouyang: it has always been the perfect instrument made possible in part by the Puffin Foundation. This project was also supported, in part, by a Foundation for Contemporary Arts Emergency Grant
Organized by Alexis Wilkinson, Knockdown Center Director of Exhibitions and Live Art.
Exhibition Events
Held Remotely
Saturday, March 21, 2pm
slow jam: active restfulness is its own kind of money, a movement workshop with Lu Yim.
Safety Guidelines for Visitors:
– If you are feeling unwell, exhibiting any symptoms of Covid-19, or have had contact with a COVID-19 patient in the last 14 days, please stay home and seek care.
– Visitors are required to wear face masks at all times while in the building.
– A maximum of four visitors will be allowed into the gallery at a time.
– Visitors are allowed in the galleries for 45 minutes of viewing time.
– Visitors are required to practice physical distancing in the gallery, keeping 6ft between you and other visitors.
– Knockdown Center will provide hand sanitizer for visitors at the entrance.
– We do not condone abusive, threatening, or unsafe behavior, and will remove any visitor who does not comply with safety requirements listed above, or is behaving in an otherwise unsafe manner.
Gallery protocol:
– Staff will wash hands thoroughly upon entering the gallery and wear face masks at all times.
– Staff will regularly disinfect touchable surfaces throughout the gallery.
– Staff will practice physical distancing at all times.