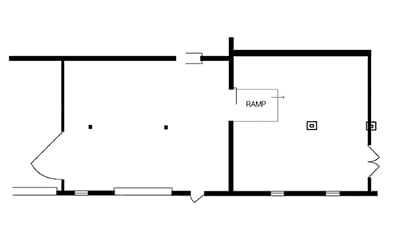 ARTISTS
Caroline Woolard, Helen Lee, Lika Volkova
Exhibition Events
Thursday, August 30, 6 – 8pm: Opening performance by Lika Volkova
Saturday, November 3, 5 – 8pm: Closing performance by Daniel Neumann
Knockdown Center is pleased to present Carried on Both Sides: Encounter Three, a collaborative project by artists Caroline Woolard, Helen Lee, and Lika Volkova on view August 30 – November 3, 2018. Founded in research and expressed across media, the works in the exhibition explore the visual, political, and material lineage of the @ symbol. The artists employ traditional and experimental glass techniques to engage with the history of the @ symbol, and ultimately, to speculate about its future use.
The project consists of three exhibitions over the course of a year, culminating at Knockdown Center in its final and most comprehensive presentation. For Knockdown Center, the artists incorporate sculpture, installation, fashion, and glass blowing to create new artifacts that reference what the group calls "imperial residues" of ancient Rome that are embedded in the contemporary world. These residues appear in daily life, from architectural columns on buildings and the figure of the bald eagle on the dollar bill, to the ubiquitous @ symbol. The @ symbol derives from a graphic representation of the amphora, a vessel used in ancient Rome to transport goods like olive oil or grains. The project's title references the amphora's original meaning – to "carry on both sides" – referring to the vessel's two carrying handles. The works on view aim to evoke questions about what connections we may find between this ancient mode of transportation, commerce, and craft, and today's digital communication. The artists thus have created artifacts from the future of the @ symbol in which they imagine the @ symbol unfurls in an imperative to rest, to sleep, and to dream.
The first iteration of the project was exhibited at Lesley Heller Workspace in November 2017, and the second iteration of the project showed at LMAKgallery in January 2018. For more information on this project, see: http://CarriedOnBothSides.com, and the Art21 documentary: https://art21.org/watch/new-york-close-up/caroline-woolards-floating-possibility/
Performances
Thursday, August 30
6 – 8pm: Opening performance by Lika Volkova
During the exhibition's opening, collaborating artist Lika Volkova brings three bodies into contact with her artwork. Wearing garments from the future, they rest under glass paperweights. With this work, Volkova asks us to consider the ways in which the @ symbol destroys sleep and takes over dreams, offering the glass paperweight as a speculative protection from the invasive @ symbol during sleep.
Saturday, November 3
5 – 8pm: Closing performance by Daniel Neumann
The exhibition will close with a durational sound field composition by sound artist Daniel Neumann made in response to the works on view.
Artists
Caroline Woolard creates sculptures using online networks, hand built objects, and immersive environments. Recent commissions include Listen, Wave Pool, Ohio (2018); WOUND, Cooper Union, New York, NY (2016); Capitoline Wolves, Cornell University, Ithaca, NY (2016), and Exchange Café, MoMA, New York, NY (2014). Woolard's work has been celebrated by the National Endowment for the Arts, where she delivered the 50th Anniversary keynote (2017) and in New York Close Up, the PBS / Art21 documentary series (2017). Recent scholarly writing on her work has been published in the Brooklyn Rail (2017); Artforum (2016); Art in America (2016); The New York Times (2016); and South Atlantic Quarterly (2015). Recent visiting artist lecture appointments include the School of the Art Institute of Chicago (Chicago, IL); Williams College (Williams, MA); the University of California at Berkeley (Berkeley, CA); the Malmo Art Academy (Malmo, Sweden); University of Wisconsin at Madison (Madison, WI); and the Royal Danish Academy (Copenhagen, Denmark). Woolard holds a BFA from Cooper Union (Sculpture, 2007) and is a recipient of the Rockefeller Cultural Innovation Fund (OurGoods, 2010-2012), the Antipode Scholar-Activist Project Award (Community Economies Collective, 2016), and the Theo Westenberger Estate Fund (2015). Woolard has been named one of 11 Artists to Transform the Art World (2017), has been listed in the WIRED Smart List (2013), ArtNet's Top 20 Female Artists (2015), and in the Top 100 Women for the Commons by the Peer to Peer Foundation (2014).
Helen Lee is an artist, designer, educator, and glassblower. She holds an MFA in Glass from the Rhode Island School of Design and a BSAD in Architecture from the Massachusetts Institute of Technology. Her honors include the inaugural Irwin Borowsky Prize in Glass Art in 2013 and the Edna Wiechers Arts in Wisconsin Award in 2014. She was nominated for a Louis Comfort Tiffany Award in 2015 and a USA Fellowship in 2016. Most recently, Lee received the Gold Award in the 2016 Bullseye Emerge exhibition. Her work is in the collections of the Minnesota Museum of American Art, the Corning Museum of Glass, the Chrysler Museum Glass Studio, and Toyama City Insitute of Glass Art. Lee has worked as a freelance graphic designer for Chronicle Books and Celery Design Collaborative, and was an Affiliate Artist at Headlands Center for the Arts from 2009-2011. She has taught at Rhode Island School of Design, California College of Art, Toyama City Institute of Glass Art, Pilchuck Glass School, Haystack Mountain School of Crafts, the Chrysler Museum Glass Studio, and the MIT Glass Lab. She is currently an Assistant Professor and Head of Glass in the Art Department at the University of Wisconsin-Madison.
Lika Volkova is an artist and fashion designer based in Brooklyn, New York. Her sculptures and garments have been shown at the Museum of Art and Design and the Queens Museum of Art. Volkova's label SANS was featured in Vogue, Metal, and Hint, and her work has been commissioned by PERFORMA. Her forthcoming New Economic Policy installation will be shown at The Luminary in St. Louis and at the Ross Art Museum in Ohio in 2018.
Daniel Neumann is a Brooklyn-based sound artist, organizer and audio engineer, originally from Germany. A main focus throughout these different occupations is how sound interacts with space and how spaces can be shaped by sound. He holds a masters degree in media art from the HGB Leipzig and also studied electronic music composition.
***
Knockdown Center's exhibitions are selected through a competitive open call for proposals. Through a multi-round process, exhibition proposals are reviewed by Knockdown Center's Curatorial Advisory Board and selected based on quality, distinctiveness, and response to Knockdown Center's unique site and context within an ecosystem of live events.
Founded in 2015, the Knockdown Center's Curatorial Advisory Board is currently comprised of seven sitting arts professionals with diverse but overlapping interests and fields of expertise. The Curatorial Advisory Board meets bi-annually to provide critical feedback on a wide range of proposals as well as contributing to discussions about larger programmatic goals. To learn more about proposing an exhibition or short-term project please visit our Proposals Page.