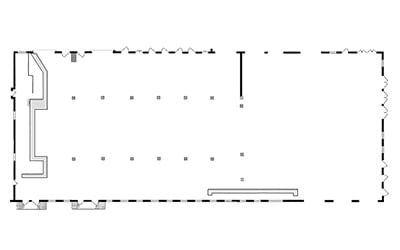 ARTISTS
Black Dice
Xiu Xiu
Wolf Eyes
Hairbone
M. Caye Castagnetto
DJ Angus Andrew (Liars)
At this special release celebration for Mod Prog Sic, their 7th full-length LP, Black Dice will be joined by special guests Xiu Xiu, Hairbone, + more TBA.
For all 25 years of their existence, Black Dice have loomed as an unrivaled, unforgettable, and influential force. Their performances are forceful, full-body experiences, with listeners afterward describing the singular kink of feeling their skeletons vibrate. This understanding of the physical force of sound has endeared Black Dice to both the damaged youth of DIY warehouse shows and the erudite spectators of vaulted galleries. This specious contradiction carries through to their community, seeing them thrive equally on underground labels like Troubleman, on Animal Collective's Paw Tracks, and with DFA Records. Black Dice's recorded legacy reveals an obsessive focus, like loner teens taking objects apart to see how they work. This fixation on craft and composition exposes a restlessness that pushes each record to a distinct edge, impossible to conflate with any other entry in their discography, let alone with any other band. Black Dice's disquiet, their relentlessness, their work ethic, their shimmering, howling, lurking thump
Mod Prog Sic is Black Dice's seventh full-length, and their first in nearly a decade. It's a wildly propulsive record. It never touches the disassociate state found across so much of their discography, working instead in the harried moments of euphoria that linger just before such breaks. Basslines strain at the end of their leashes, tones bounce like gravity is being switched on and off. Their command is absolute, a choreography performed upon listeners. Since their first show in 1997, working at the edges has taught Black Dice the bliss to be found there. Mod Prog Sic is the evidence. If it seems ridiculous to speak of these as pop songs, it's even more ridiculous to speak of them as anything else.
Tickets on sale now: https://blackdice25th.eventbrite.com
━ ━ ━ ━ ━ ━ ━ ━ ━ ━ ━ ━ ━ ━ ━ ━ ━ ━ ━ ━ ━ ━ ━ ━ ━ ━ ━ ━ ━ ━ ━ ━ ━
Wolf Eyes
Drawing from such disparate sources as Throbbing Gristle, Black Flag, and King Tubby, the Michigan trio Wolf Eyes create harsh and hypnotic electronic landscapes that merge the frenzied energy of hardcore with the nihilistic menace of early industrial and noise. Constant touring in the early 2000s brought the group a strong cult fan base and opened the world of the noise underground to a new generation of curious indie rockers, punks, and experimentalists.
Xiu Xiu (solo)
Xiu Xiu makes beautiful music for hard times. For nearly 20 years, the band has a track record of crafting experimental music for moments when life's harsh realities meet its existential mysteries. On the latest album, Jamie Stewart explores a recent revelation and is reminded of the power of the band's music to surprise and connect. Listening to the songs on OH NO, it is hard to feel truly alone. Instead, it is a reminder that even when we are alone, we're alone together.
DJ Angus Andrew (Liars)
Angus Andrew is the founding member and driving creative of ever-changing band, Liars. A restlessly experimental act that never makes the same album twice, during the 2000s and 2010s, Liars evolved from arty dance-punks into a project that transcended genres with every transformation. As they moved from place to place and sound to sound, they swung between vulnerability and aggression on each album and sometimes within the course of a single song. No matter how their sound changed, their music exuded a sense of mystery and searching that was only heightened on 2017's TFCF, Liars' first album with singer, songwriter, and multi-instrumentalist Andrew as the project's sole member. 2021 saw the release of Liars' 10th studio album, The Apple Drop, which was hailed as a creative return to form.
M. Caye Castagnetto
(w/ Ciriza and James Caperton)
M. Caye Castagnetto is a composer, percussionist, and producer. Influenced by a life split between Lima, London, and Twentynine Palms, Peru-Born Caye Castagnetto have composed scores for theatre, performance and artists's videos. Formerly a member of bands such as On Form, Antifamily, and Sonora. Caye released their debut album Leap Second on Cartleface  Records in January 2021. They have exhibited and performed in venues such as the Whitney Museum (US), Vivienne Westwood's The Art of Elysium, the TBA festival in Portland, the Getty Museum (US), The Stedlik Museum (NL), Die Kagurazaka Theatre (JP), La Casa Encendida (SP), Cafe OTO, Whitechapel Art Gallery (UK).
James Caperton is a multi-instrumentalist based in San Francisco and Los Angeles. Formerly a member of Veronica Lipgloss and the Evil Eyes, and Judy Experience.
Ciriza is a multidisciplinary artist and musician.  Her performances are a theater of the primordial, a distillation of the raw and feral pulled through the throat of an unearthly dark-sea siren.  After travelling nationwide performances with art bands in San Francisco throughout a decade, she returned to Los Angeles with her visual art, as well as musical collaboration with Big Debbie, Houston-based Future Blondes, and her own solo performances.
"A truly interesting conglomeration of loose inspirations and conjurings.  A hard to decipher sound all together which makes it worth every moment,   A sprinkling of Catherine Ribeiro, Dr. John, Terje Rypdal & Nico.  Far out sun-soaked odysseys & moon dappled woodland night creepers.." – John Dwyer
Hairbone  
Hairbone is a New York-based power trio of artists Raúl de Nieves, Jessie Stead, and Nathan Whipple, formerly known as Haribo. Functioning mainly in the art world, Hairbone has inflicted audiences from museums to decrepit basements with their carnivalesque live shows for nearly a decade.