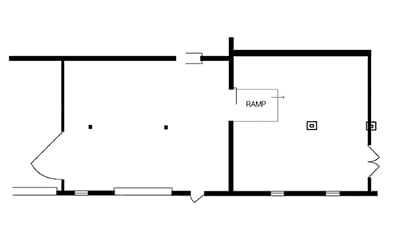 Knockdown Center is pleased to present The Clock is Taking a Nap., a mural by Amie Cunat as a part of FiftyTwo Ft, a series of long-term wall-based artworks in the East Corridor.
The imagery within the mural is sourced from drawings of churches and other buildings in New York City. The work depicts building-like structures tightly packed across the wall as if they had been extracted from a dense urban neighborhood where houses, commercial buildings, and places of worship respond and form to their adjacent architecture. In some areas, the structures' contours bend as if their frames have been pulled out, leaving behind the suggestion of a jelly-like skin sagging from its own weight. In others, the forms maintain a sense of buoyancy, appearing to float or sway against the colloidal skyline, all in service of a larger atmospheric force that pushes this imagined landscape into contorted positions.
Exhibition Events
Sunday August 6, 2017, 5:00pm
Artist Talk
Sunday, August 6, 2017, 6:00-8:00pm
Opening Reception
Amie Cunat is a Japanese-American artist raised in McHenry, IL. Her paintings and installations, characterized by biomorphic forms and comedic hues, investigate parallels between abstraction and perception. She earned a BA in Visual Art and Art History from Fordham University, a Post-Baccalaureate Degree in Painting and Drawing from The School of the Art Institute of Chicago, and an MFA from Cornell University. Her recent exhibitions include Curtains at This Friday or Next Friday (NY), C+C: Kat Chamberlin and Amie Cunat at SPRING/BREAK Art Show (Curated by Nicholas Cueva, NY), Hideout at The Sunroom Project Space, Wave Hill (NY), Moon Nets, Alphabet Letters at Outside (MA), Clue, Cue at Foley Gallery Window Installation (NY), and Blood and Sand at Mountain (NY). She has participated in the Studios at MASS MoCA Residency (MA), Guttenberg Arts Space and Time Artist Residency (NJ), The Artist-Teacher Residency at Cooper Union (NY), and AIRY Yamanashi (Kofu, Japan). Cunat is Adjunct Faculty of Painting and Drawing at Fordham University. She lives and works in New York, NY.